You've waited long enough for your podcast to pay off.
Too long, if you ask me.
Wait no longer – let's get you on the right path!
Dear Fellow Podcast Host,
Are you exhausted from pouring endless hours of blood, sweat, and tears into your podcast, only to witness meager results in return?
Are you tired of watching potential clients, advertisers, sponsors, and other business opportunities slip away, feeling like you're missing out?
Are you ready to witness an exponential surge in your podcast's success and enjoy a remarkable boost in your revenue, starting now?
Hi, my name is Adam Hommey.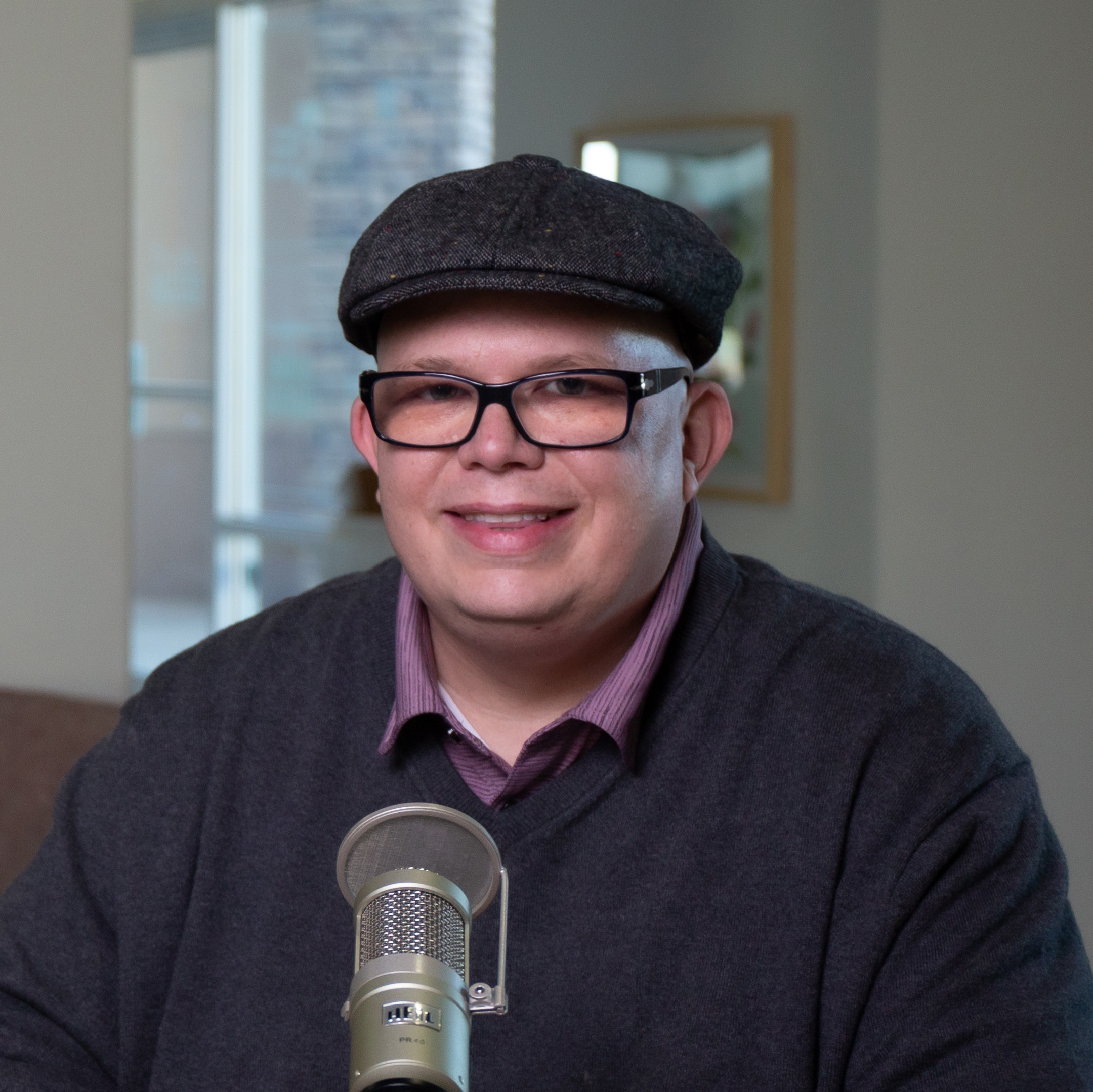 As the mastermind behind Launch Your Podcast Fast, I have successfully launched numerous podcasts for entrepreneurs, authors, and influencers, enhancing their networking opportunities, attracting more clients, and elevating their status as celebrity experts.
I'll do the same thing for you.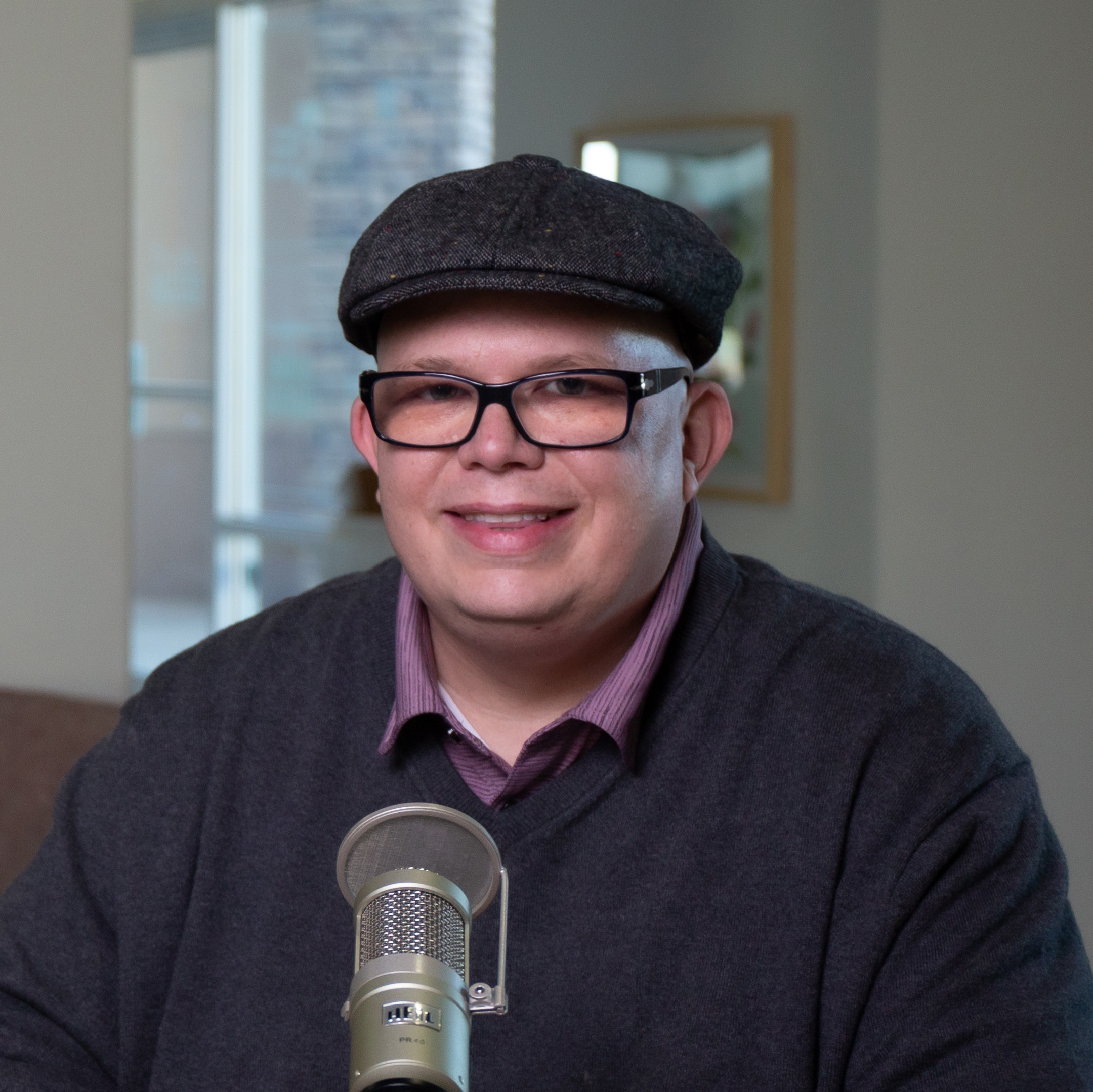 Many people, like you, know that having a podcast is one of the most effective ways to
Open conversations that lead to more closed deals and exciting opportunities, both immediately and over time

Be seen in your market as the #1 authority on what you do

Get booked on other people's podcasts and reach even more listeners who can become your customers and clients
In fact, here are just a few of the results some of our top clients are enjoying by working with us: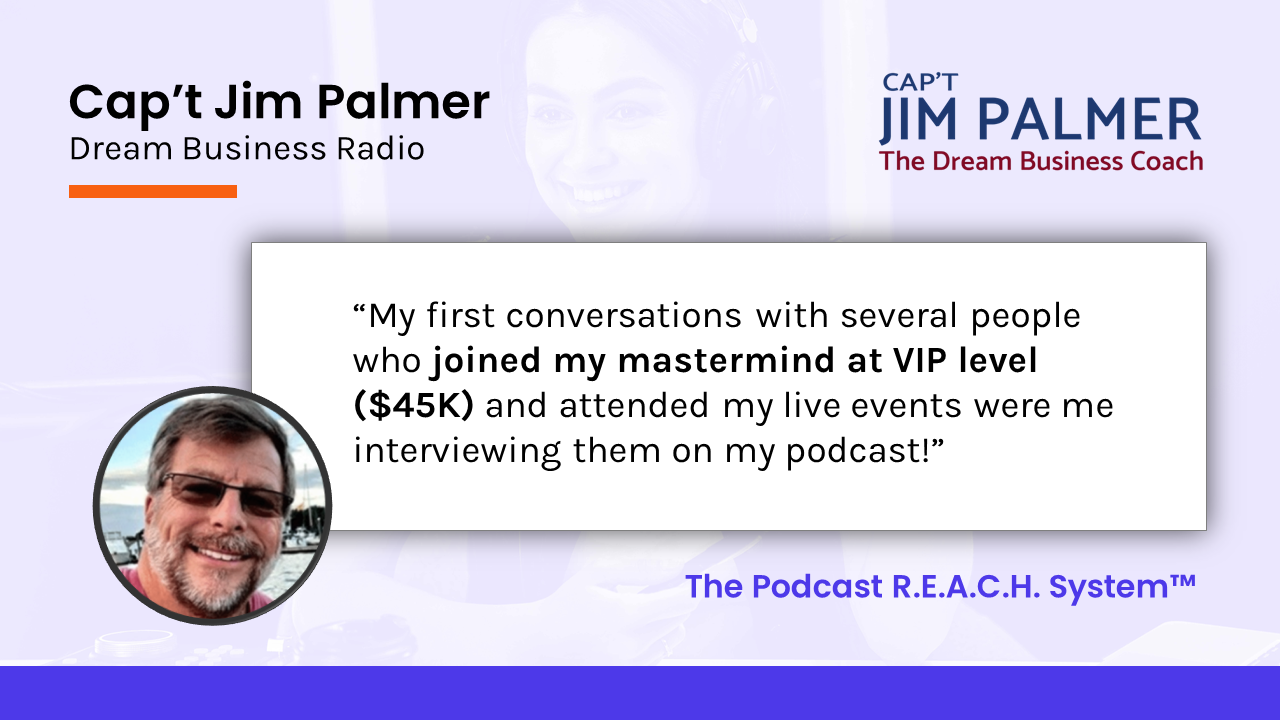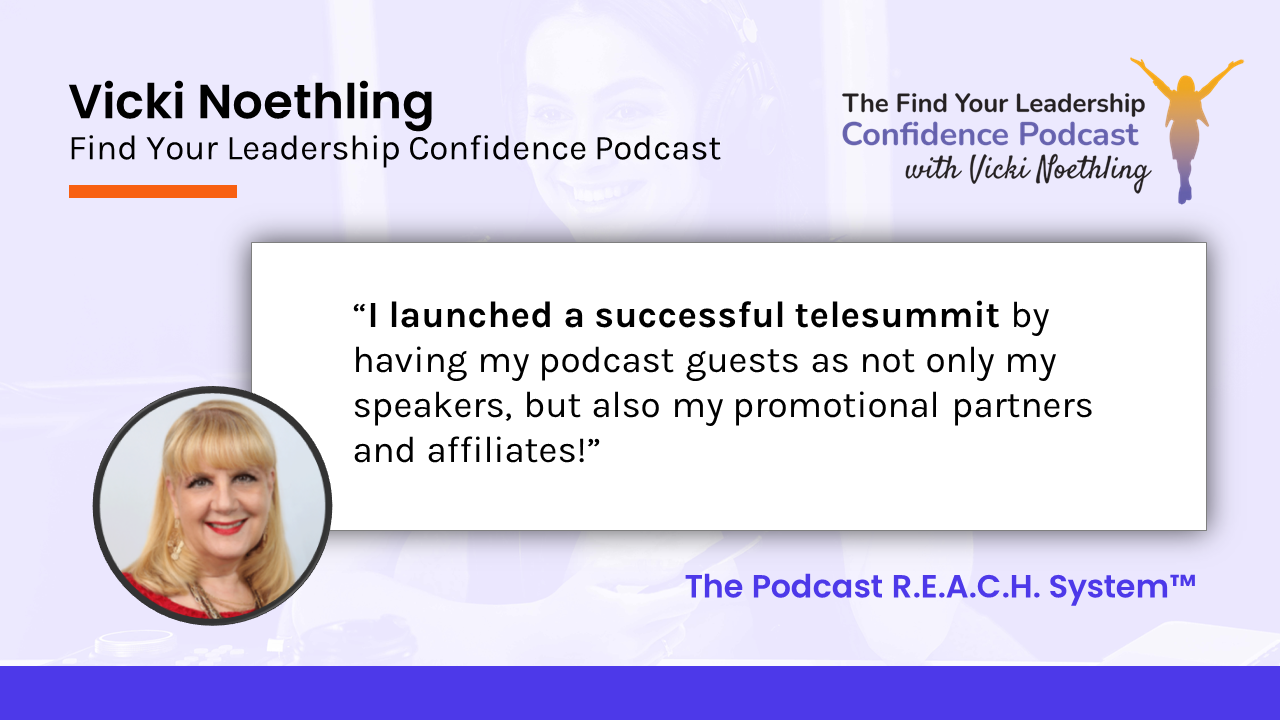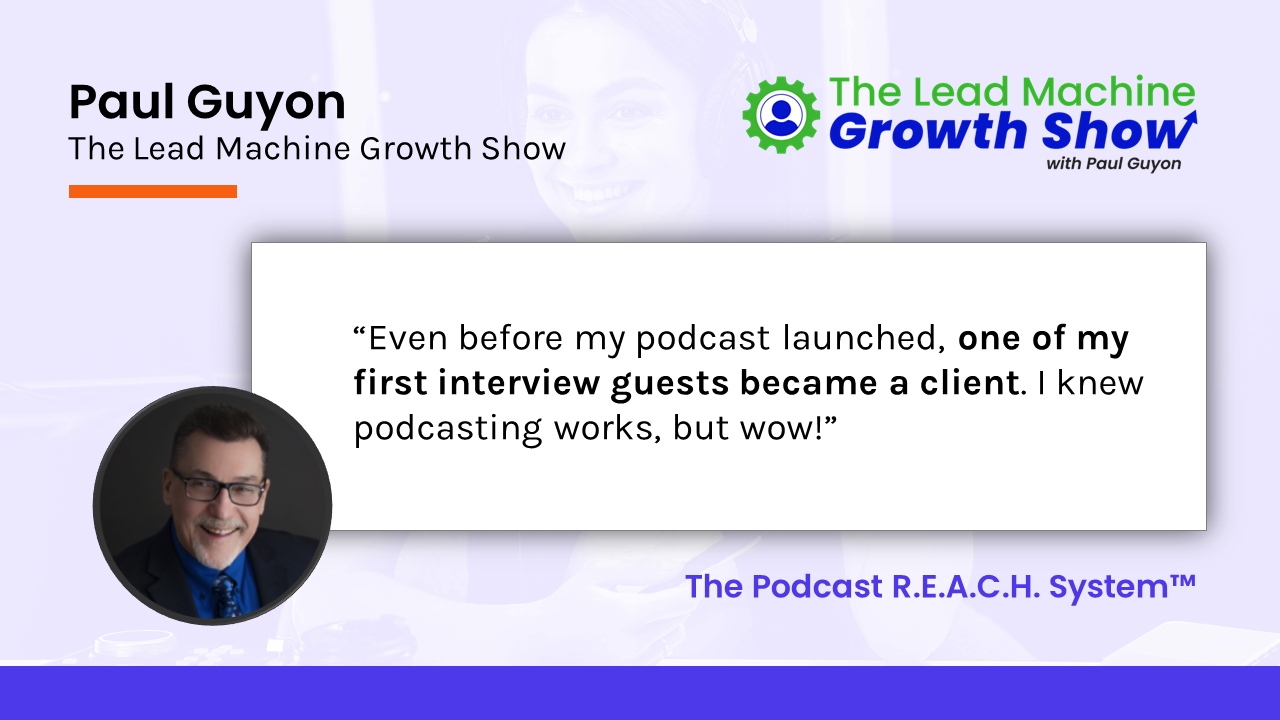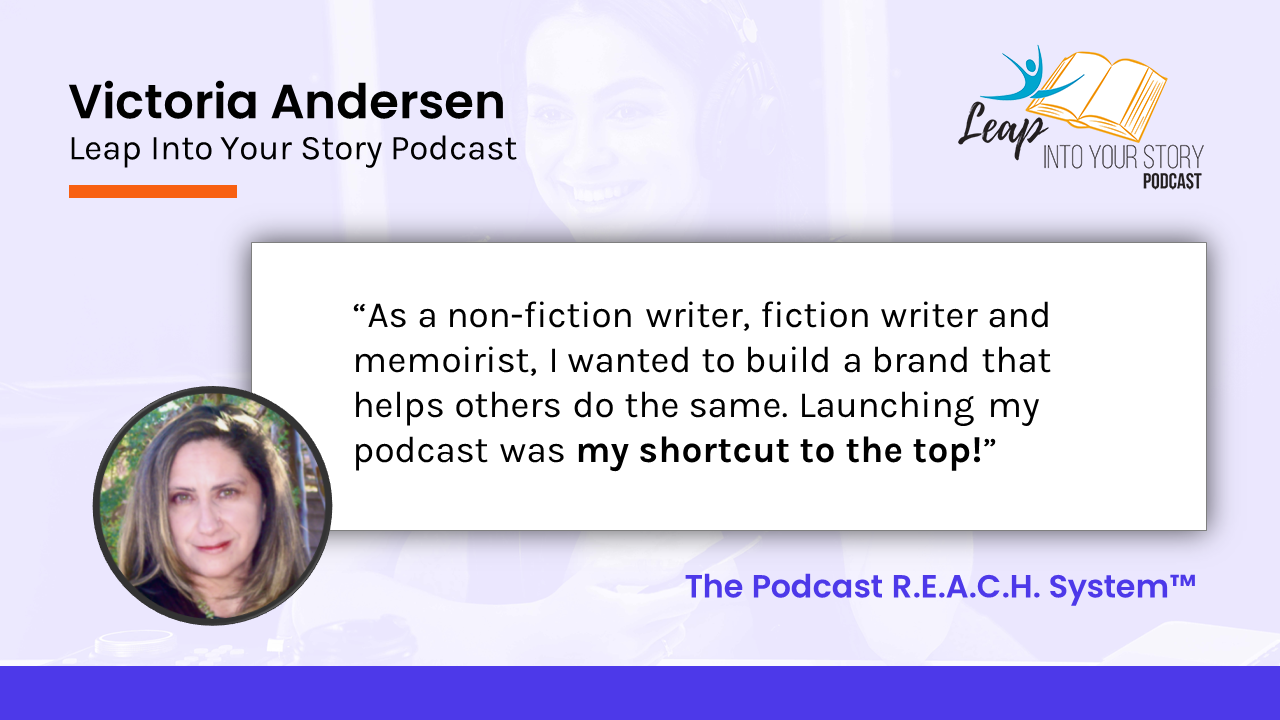 I Hear All The Time From Podcasters Who Are Frustrated With Their Show.
They started their podcast with high hopes.
Even if, at first, they launched their podcast just to check off a box or because it seemed like everyone else was doing it and they didn't want to get outflanked by their competition, once they got started they began to see the possibilities and found themselves getting excited.
But along the way, something happened.
It's not paying off the way they had hoped.
It feels like a lot of work that's not getting results.
They're losing enthusiasm… and in some cases are ready to just give up.
Do Any Of The Above Statements Apply To Your Current Situation?
Good news – help is here!
Introducing The Podcast Power Audit – a game-changing service that will help take your podcast's profitability to new heights!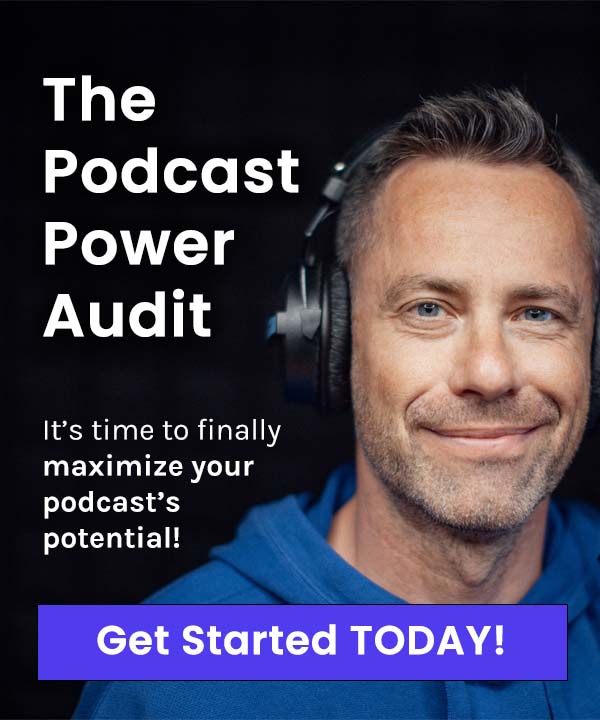 I understand that running a successful podcast is not just about producing quality content.
It's about analyzing every element of your show, identifying areas for improvement, figuring out how to make it truly easy and fun to do, and ultimately magnifying your revenue-generating opportunities.
Here's what makes The Podcast Power Audit a must-do for any podcaster, like you, who is still striving toward the goals you set when you first started out: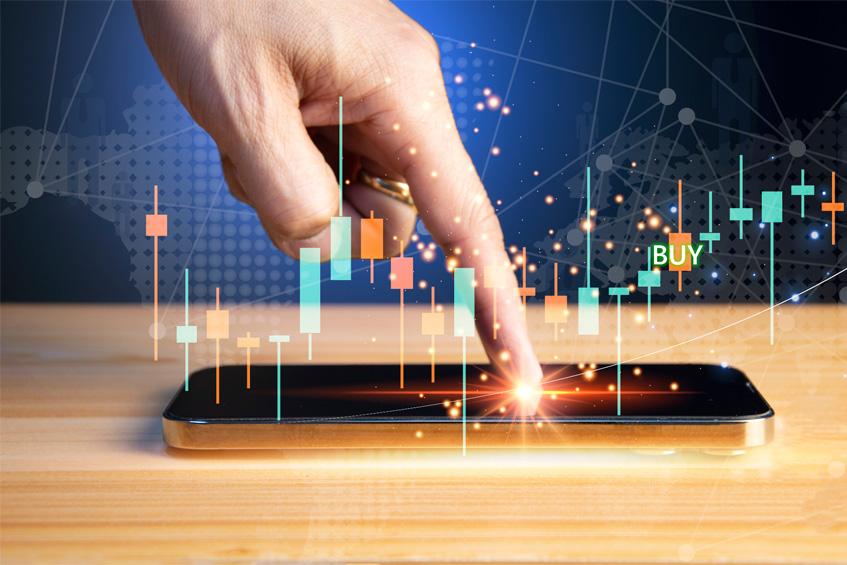 Comprehensive Podcast Analysis
We will dive deep into your existing podcast episodes, thoroughly analyzing every aspect, from audio quality and engagement to storytelling techniques and audience profiles. This in-depth analysis is the crucial first step toward making your podcast more profitable.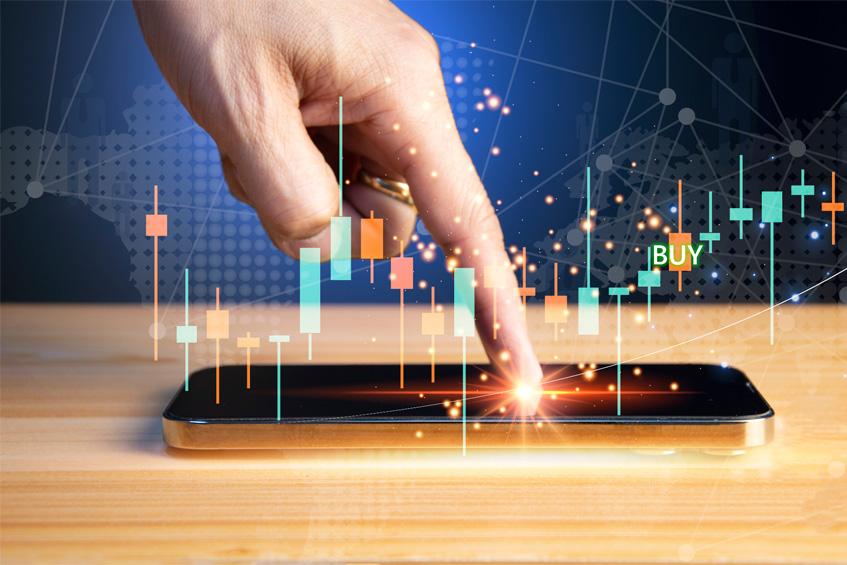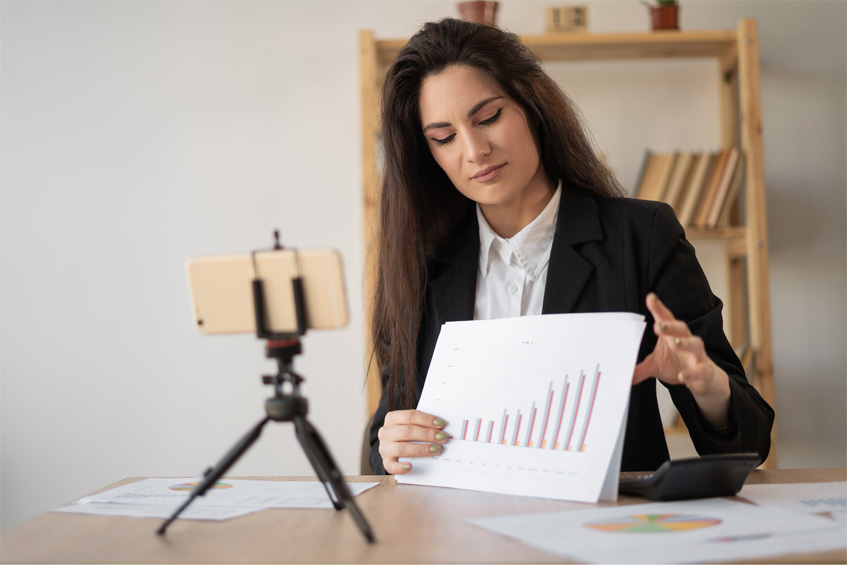 Revenue Optimization Strategies
Using our proven revenue optimization strategies, we'll identify underutilized listener and client attraction opportunities, sponsorship opportunities, and partnerships that can help you multiply your income streams. Say goodbye to wasted potential!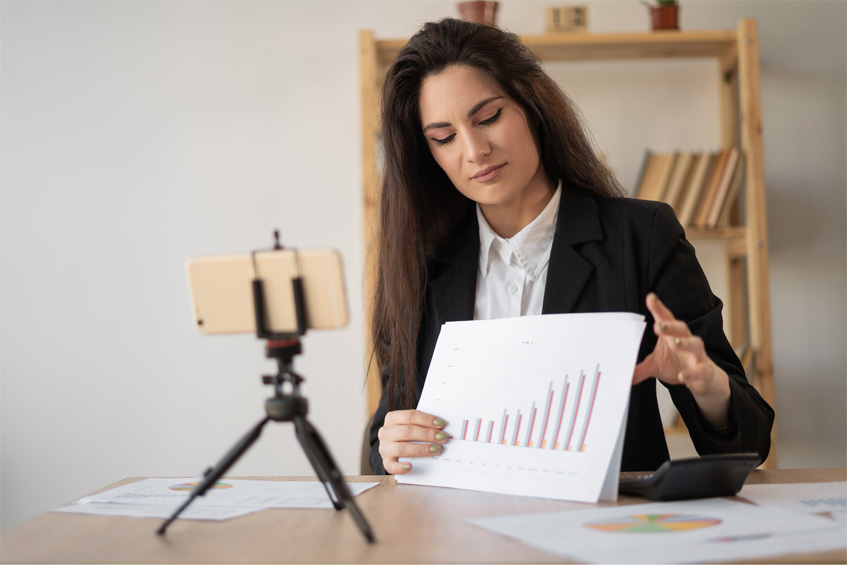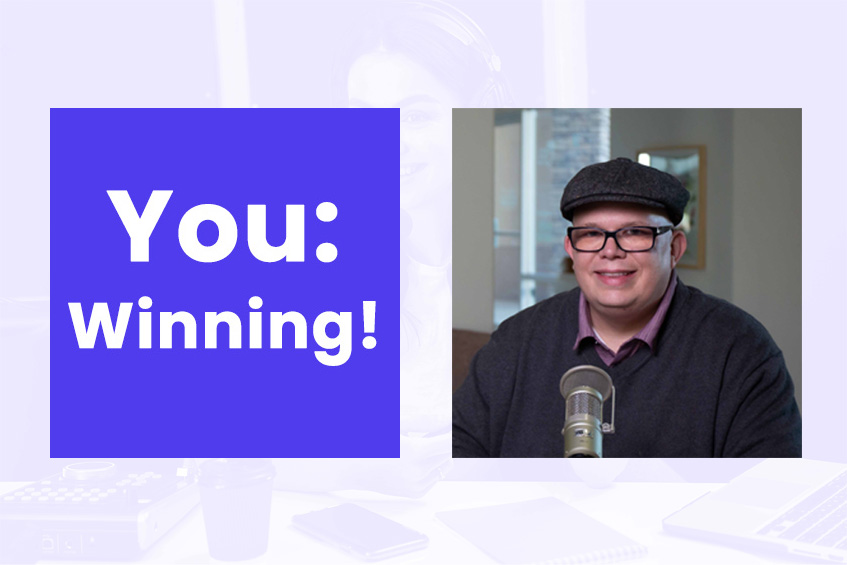 Customized Action Plan
No two podcasts are the same, and I understand this. After the analysis, we'll build you a personalized action plan tailored to your specific podcasting style, target audience, and goals. Our actionable recommendations will guide you step-by-step toward podcasting success.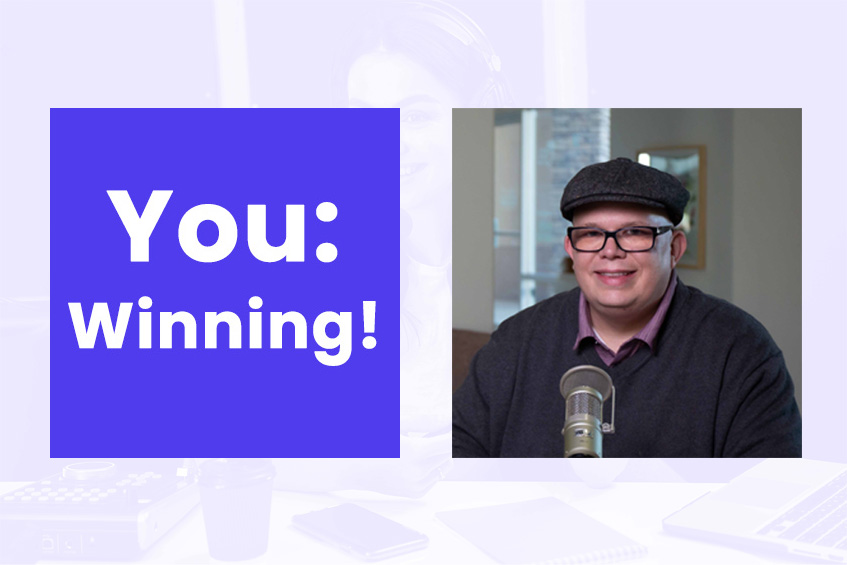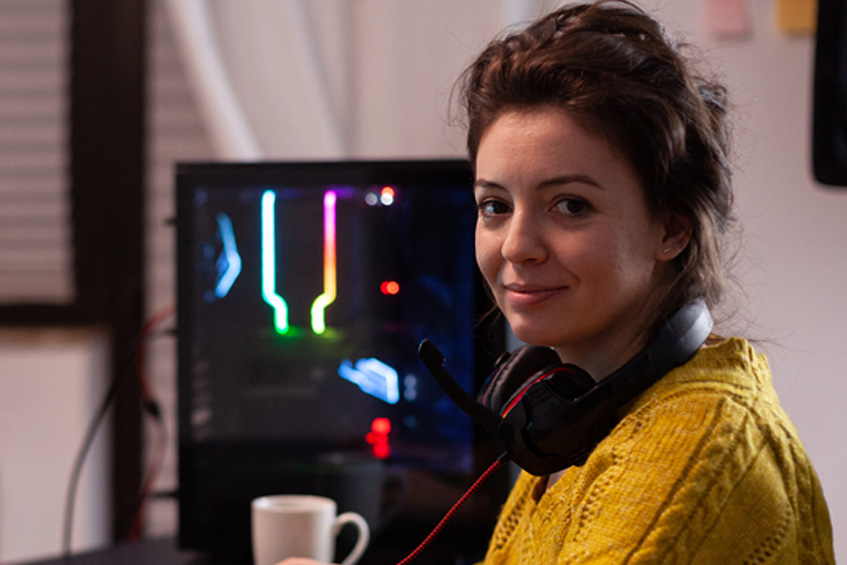 Monetization Mastery
Ever wondered how top podcasters manage to maximize their revenue streams effortlessly? We will show you insider secrets and strategies used by the most successful podcasters in the industry, enabling you to implement effective monetization techniques without missing a beat.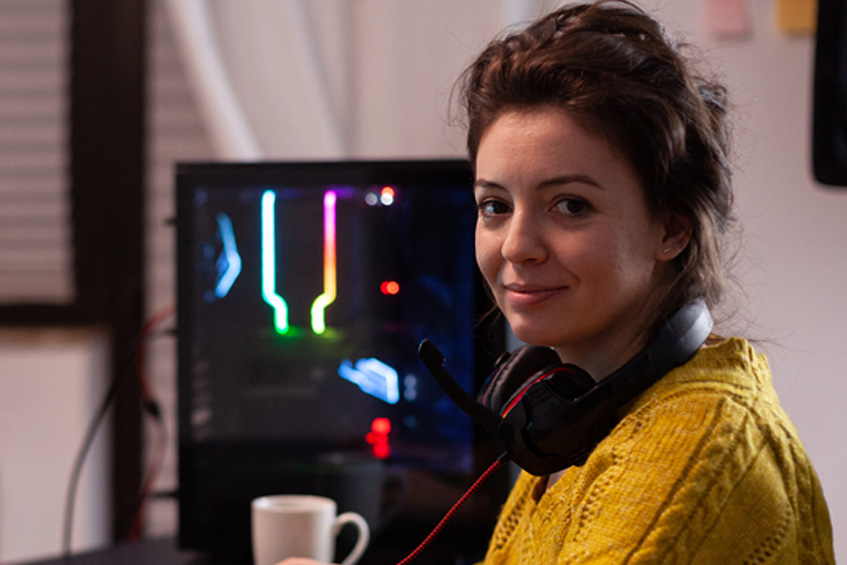 Don't let your podcast remain an untapped goldmine any longer!
With The Podcast Power Audit, you'll transform your show into a money-making machine that brings in consistent income and attracts a loyal audience.
Here's How The Podcast Power Audit Works For You
As soon as you claim your audit today, we'll get some basic information about your show – the link to it and any particular episode you want me to listen to.
We'll schedule a Zoom call to go over your podcast in detail and complete your Podcast Power Audit.
Before we meet, I'll have listened to a few episodes and reviewed your marketing goals so I'll be ready to share my recommendations with you and answer your questions.
After we finish the Zoom, you'll get your personalized Podcast Profits Action Plan.
Just follow it step-by-step and watch your results increase!
But wait… there's more.
We're not just going to fix your podcast.
I'm Also Going To "Spill My Guts" And Give You Everything I've Got On Podcasting!
The moment you claim your Podcast Power Audit, you will get a 30-day free tour of the The In-Demand Expert™ Premium Content Vault for Podcast Hosts and Podcast Guests.
As soon as you log in, you will discover one of the most comprehensive resource libraries for podcasters – and I add to it all the time!
It's the fastest way to get answers to a lot of the questions that may naturally come up as you go through the Action Plan and begin seeing new opportunities showing up for you.
It consists of several sections:
The Podcast R.E.A.C.H. Training Series for Branding and Launching Your Podcast
Whether you're just launching your show, or you already have a show and want to enhance it, our proprietary Podcast R.E.A.C.H. System is for you.
This comprehensive and cumulative system, honed and optimized over 10 years, includes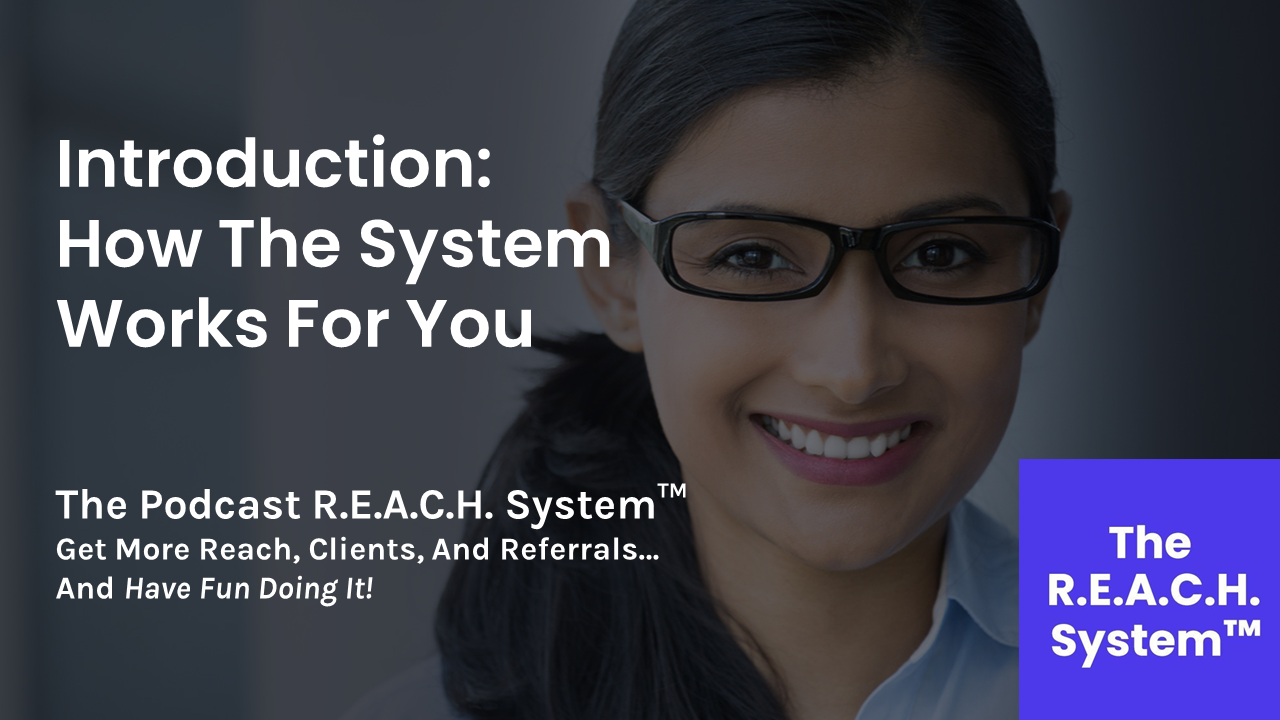 Introduction: How The System Works For You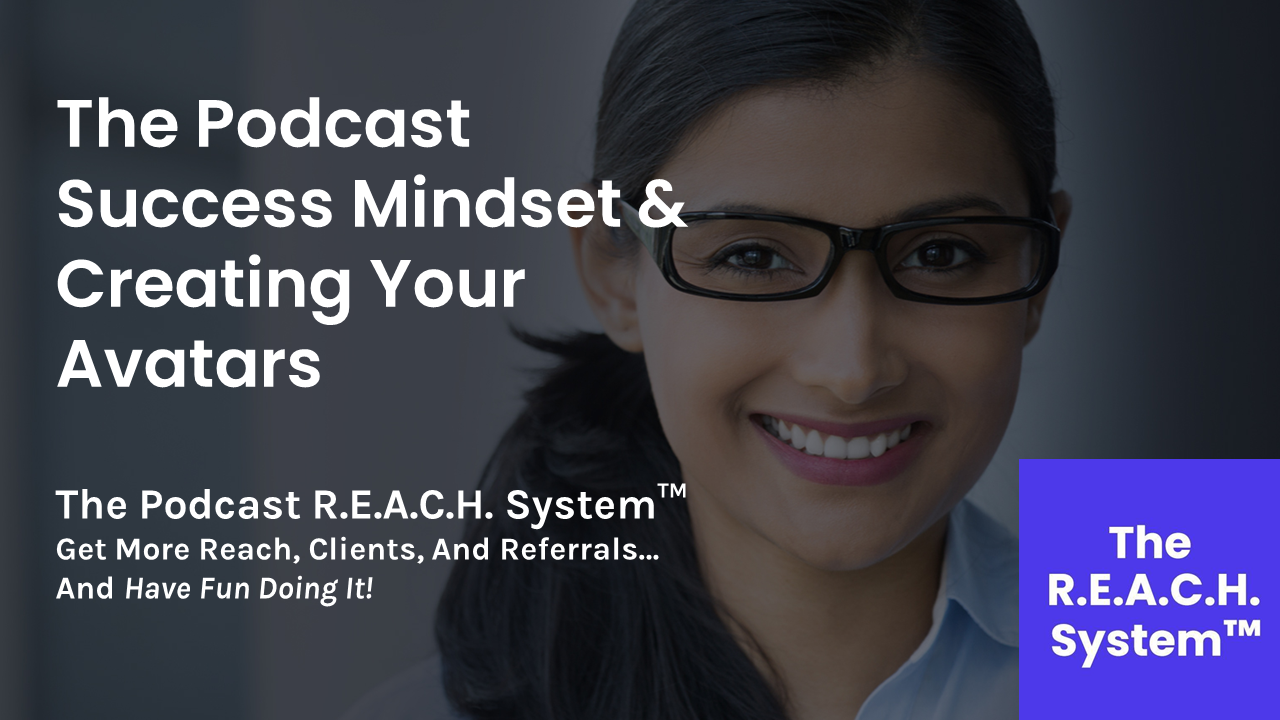 The Podcast Success Mindset & Creating Your Avatars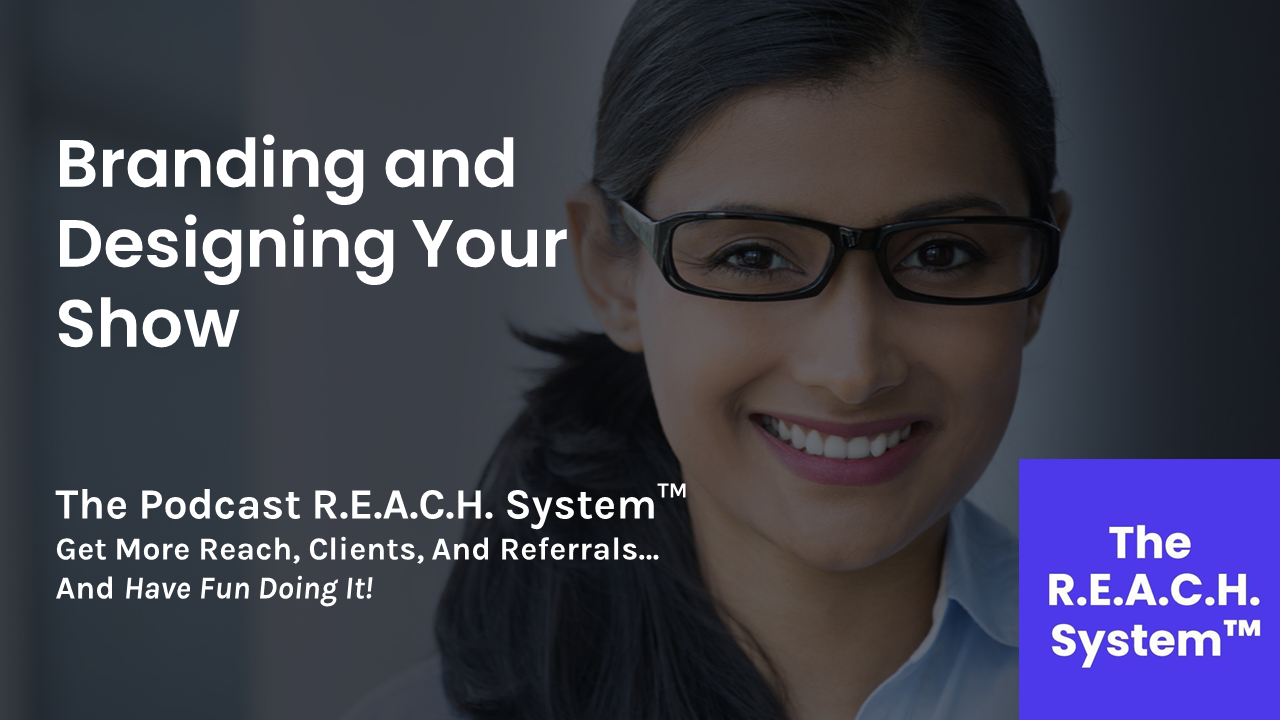 Branding and Designing Your Show (Including Intro/Outro and Commercials)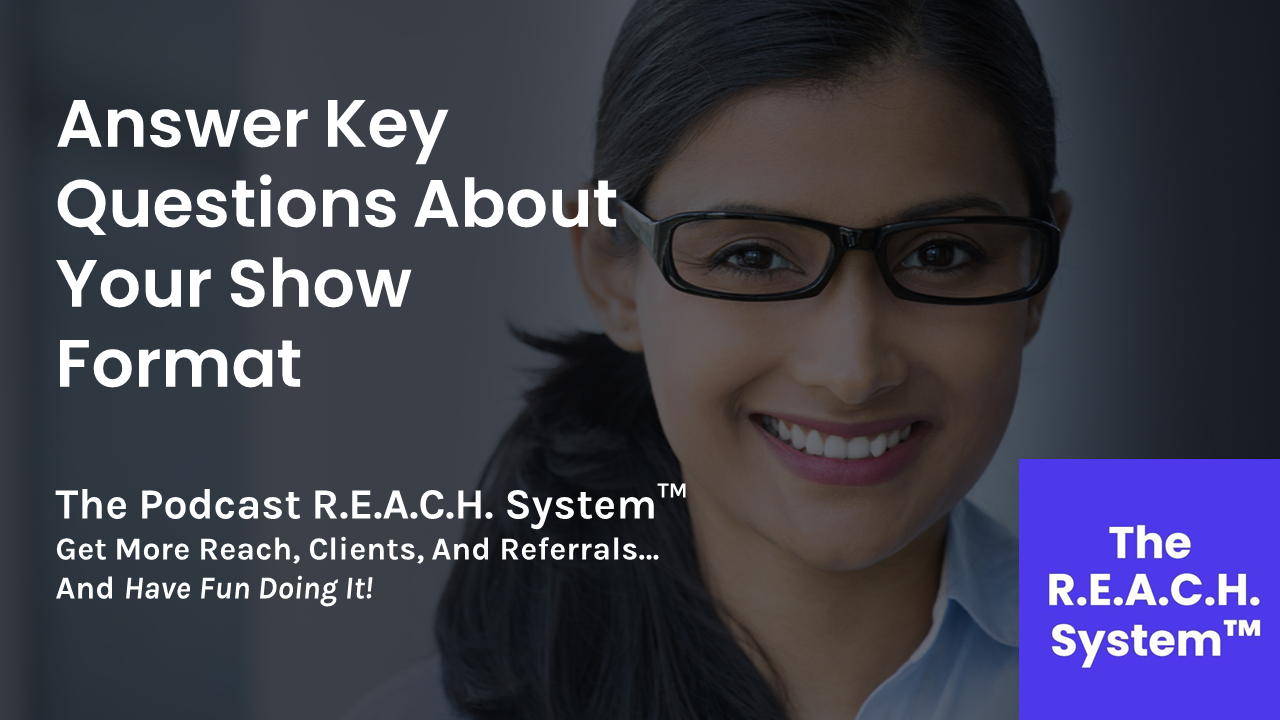 Answer Key Questions About Your Show Format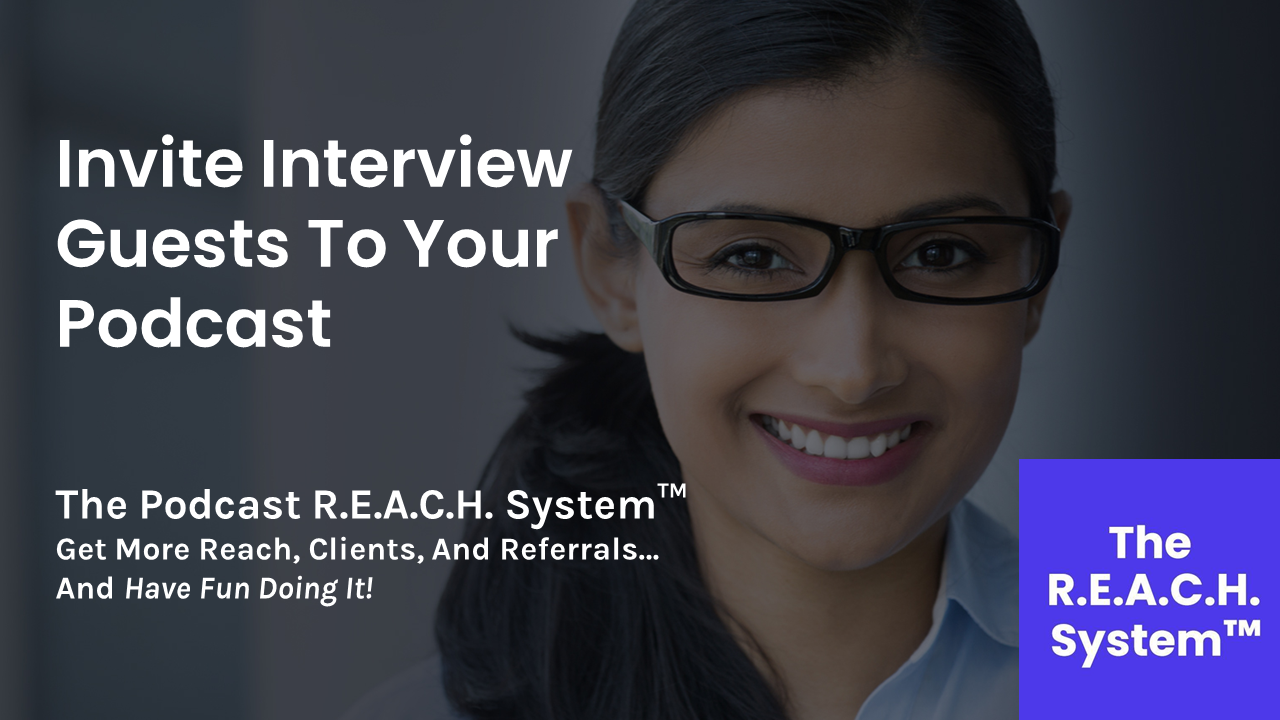 Invite Interview Guests To Your Podcast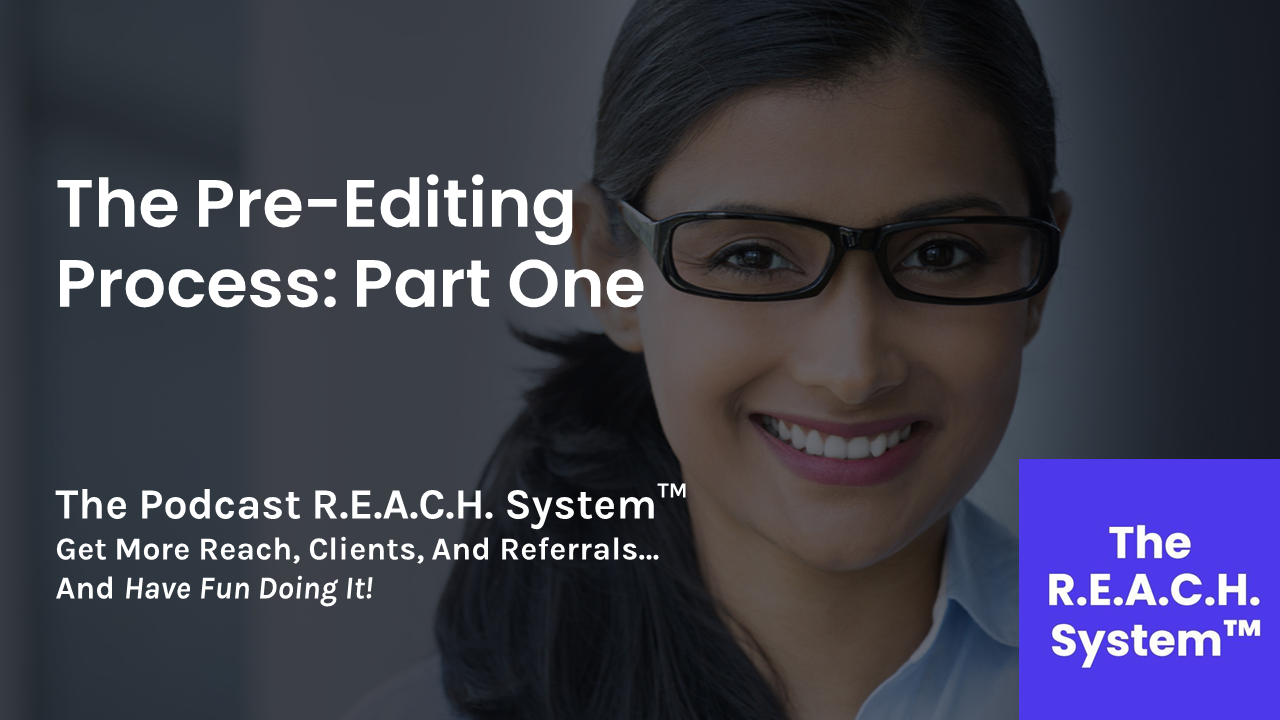 Show Flow, Mindset, Audio/Video Quality, and Getting Organized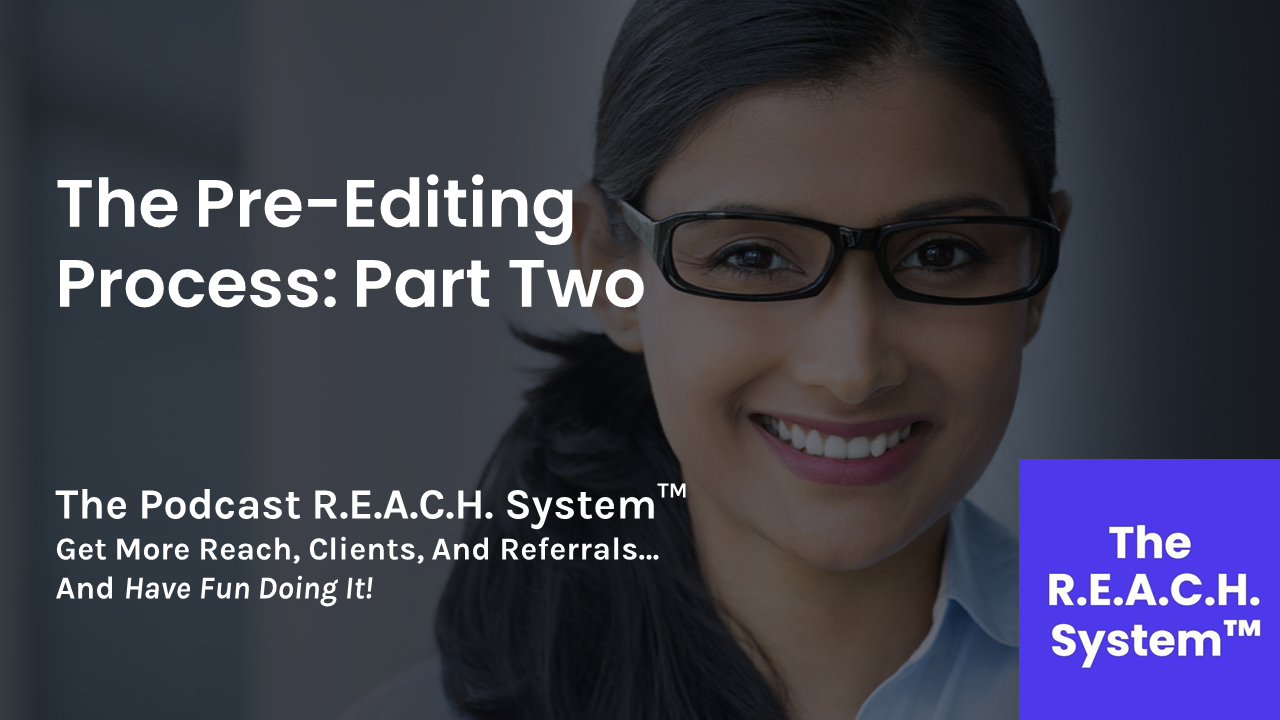 Seed-Based Marketing/Keywording, Curing Verbal Pauses, and Using Profanity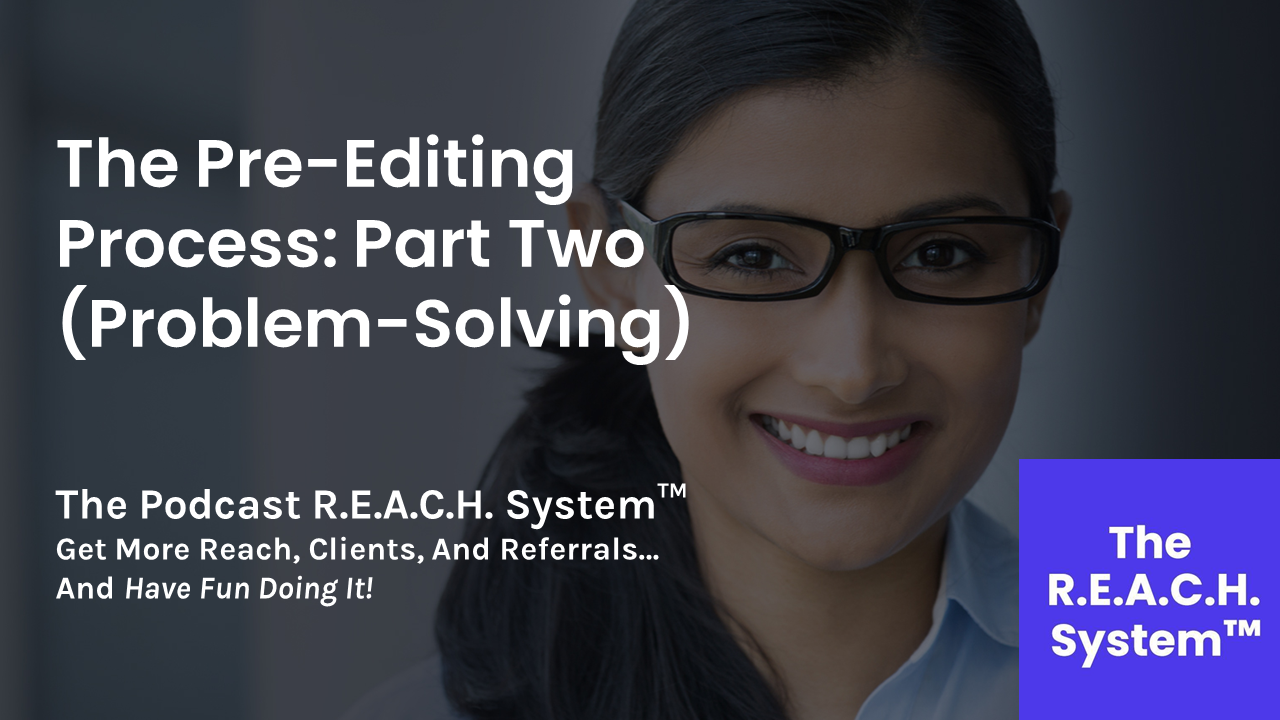 Problem-Solving on the Fly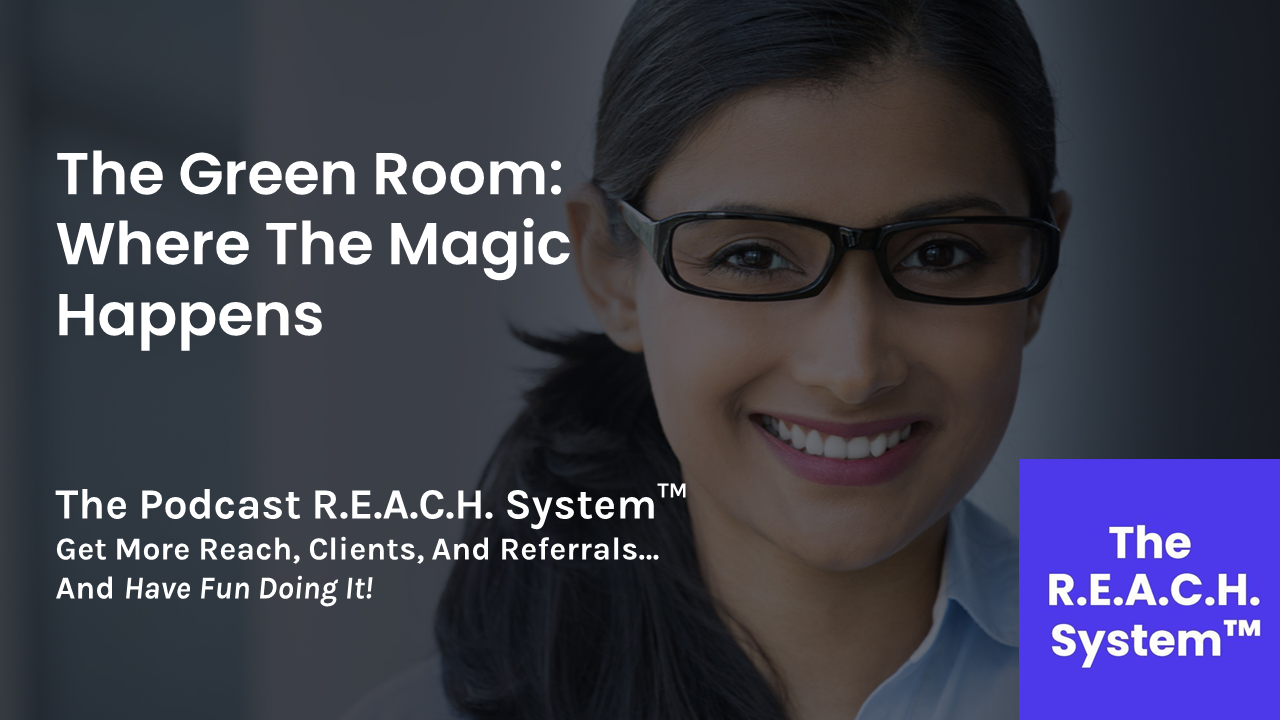 The Green-Room Conversation (Where The Magic Happens)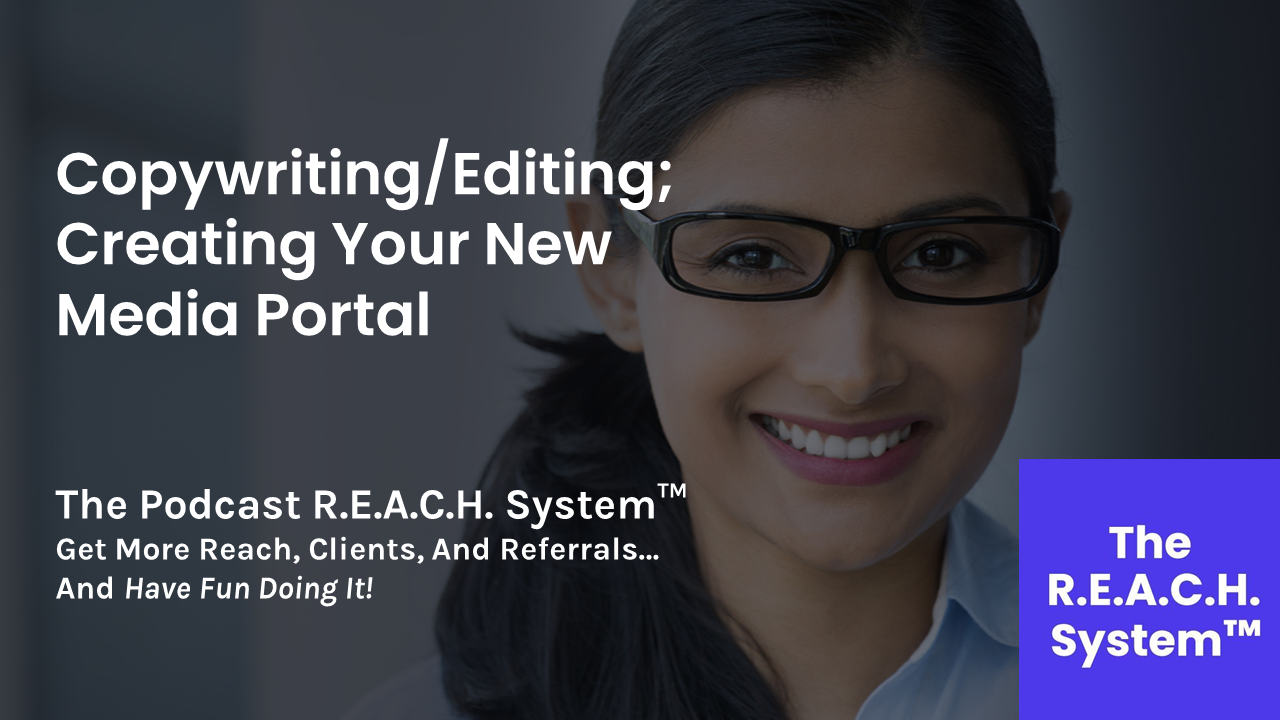 Copywriting/Editing; Creating Your New Media Portal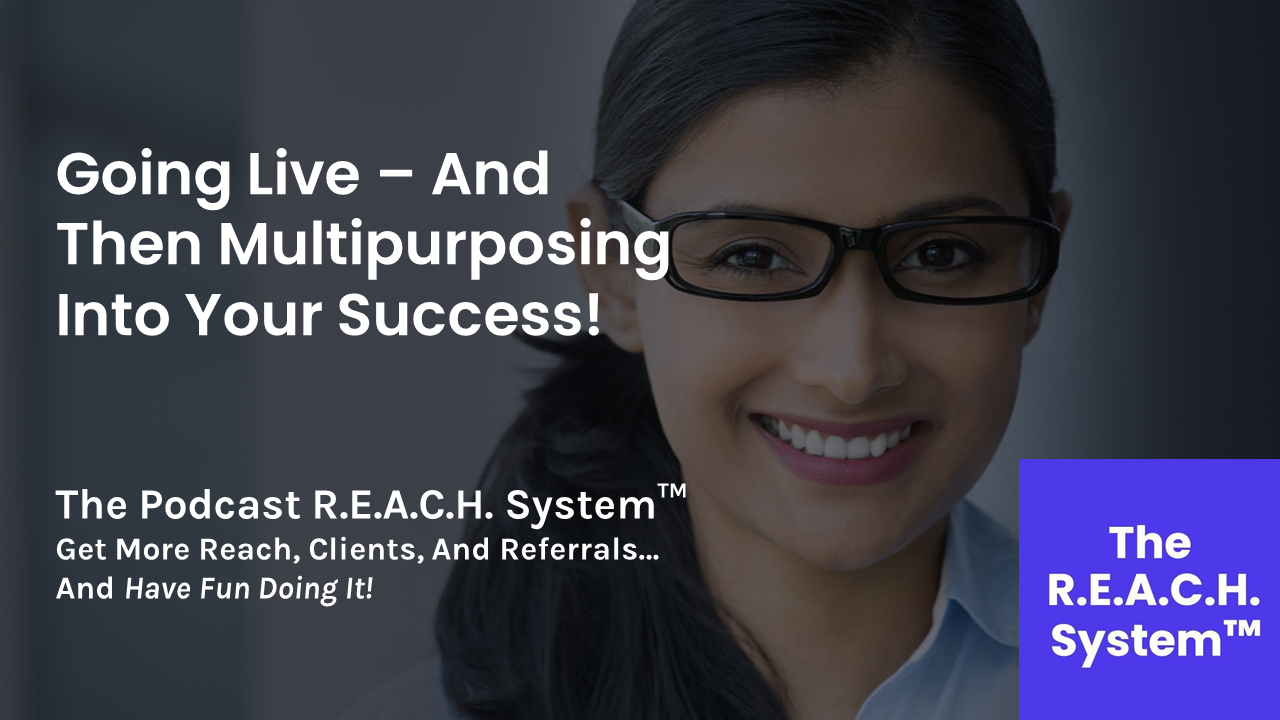 Going Live – And Then Multipurposing Into Your Success!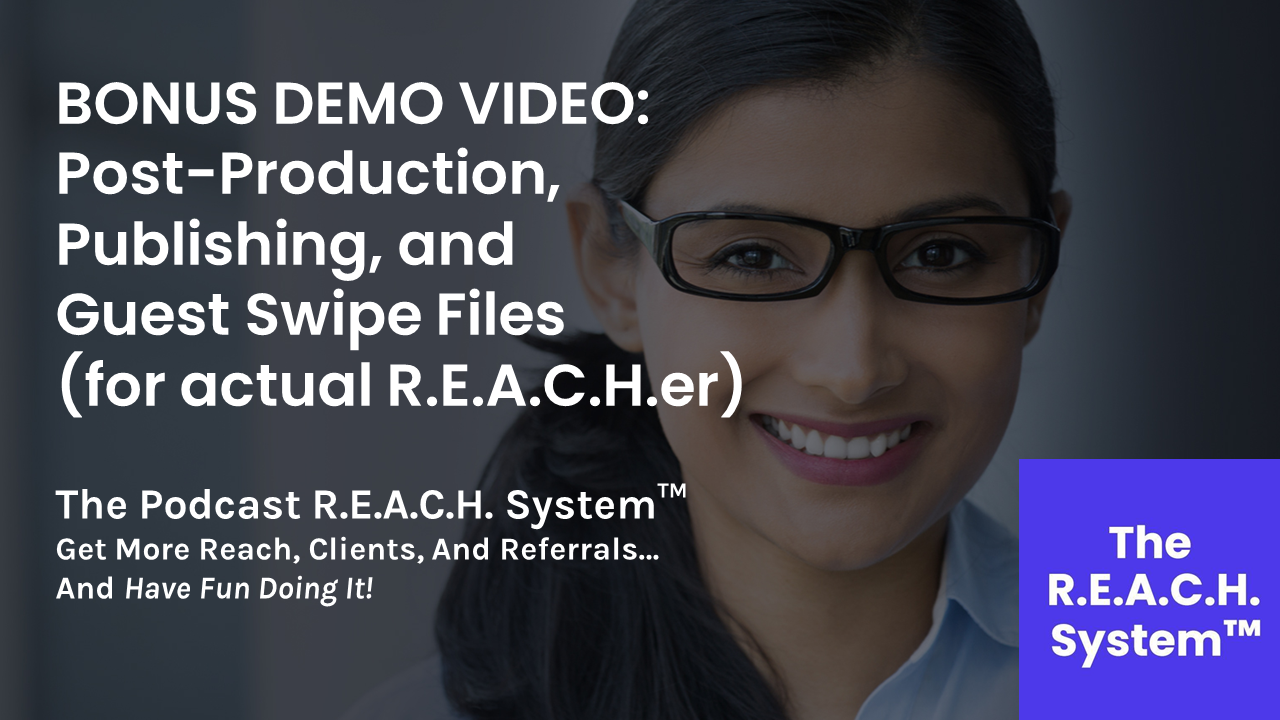 BONUS DEMO VIDEO: Post-Production, Publishing, and Guest Swipe Files (for actual R.E.A.C.H.er)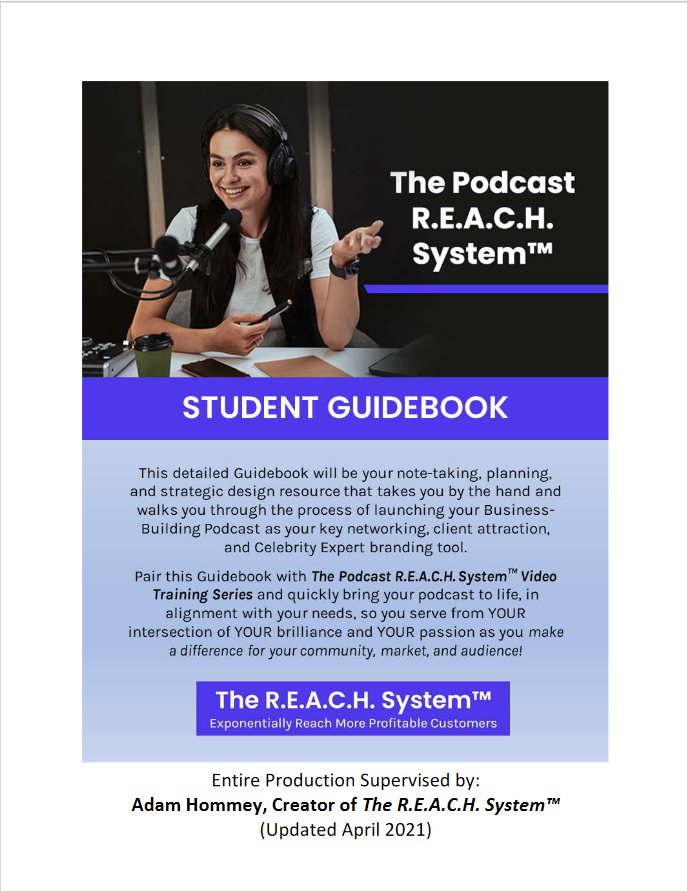 You also gain the companion Podcast R.E.A.C.H. Guidebook and Swipe File, which includes
The complete Avatar exercises – for yourself, your ideal listener, and your ideal guest

The 12 questions you'll combine with the Avatar data to create your attention-grabbing podcast title, tagline, and description

Fill-in-the-blanks scripts for your intro/outro bumpers and the commercials for your products and services

Word-for-word files you'll use to invite guests to your show and then prepare them for amazing interviews

Swipe files you'll share with your guests to promote their appearance on your show, and actually get them to do it
How To Design Your Studio and What Equipment to Buy
One of the top questions we receive from both podcast hosts and podcast guests has to do with what equipment you need – such as microphones, webcams, and more.
I got you a brilliant guest instructor (Ely Delaney) to walk you through it step-by-step, within a very reasonable budget – including how to build a studio you can take with you when you travel.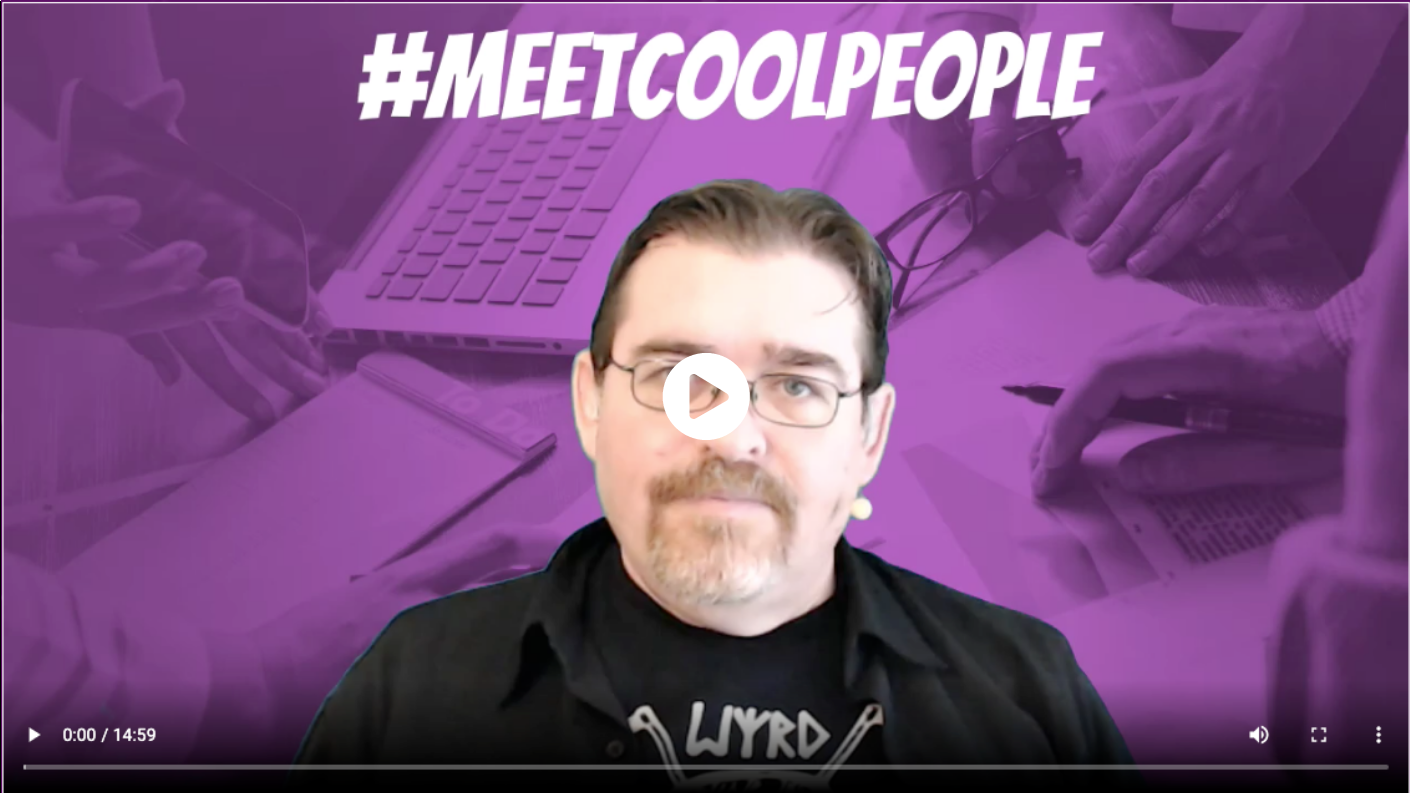 Get Great Audio and Video on a Budget – For Zoom, Podcasts, and More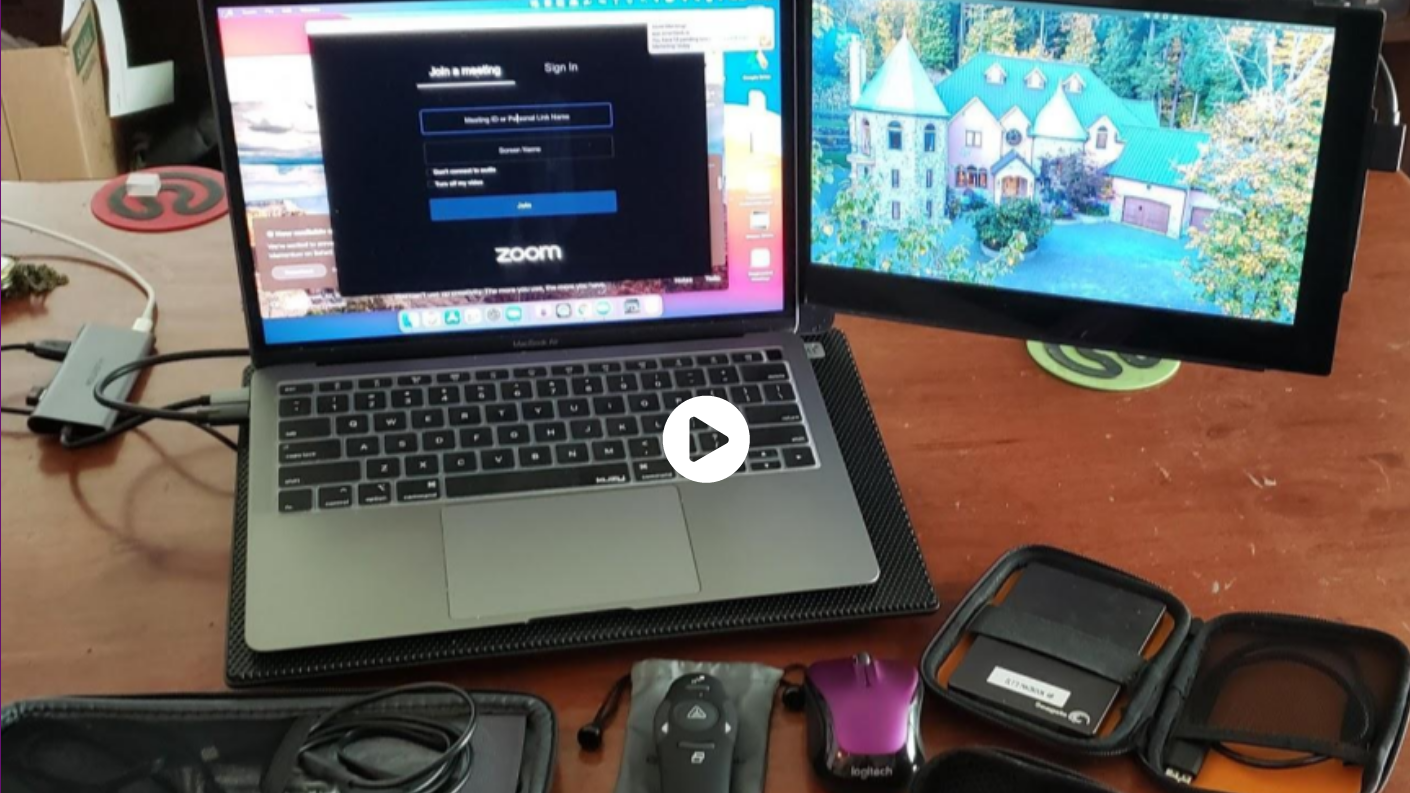 The Mobile Technology Stack for Podcasters on the Go
More Premium Content for Growing Your Podcast (and Business)
As you find yourself getting more excited about your increased success in not only podcasting itself, but other opportunities that arise, know that you'll be gaining at least two new resources in this section every month for as long as you stay with us.
When you join us today, you will receive instant access to: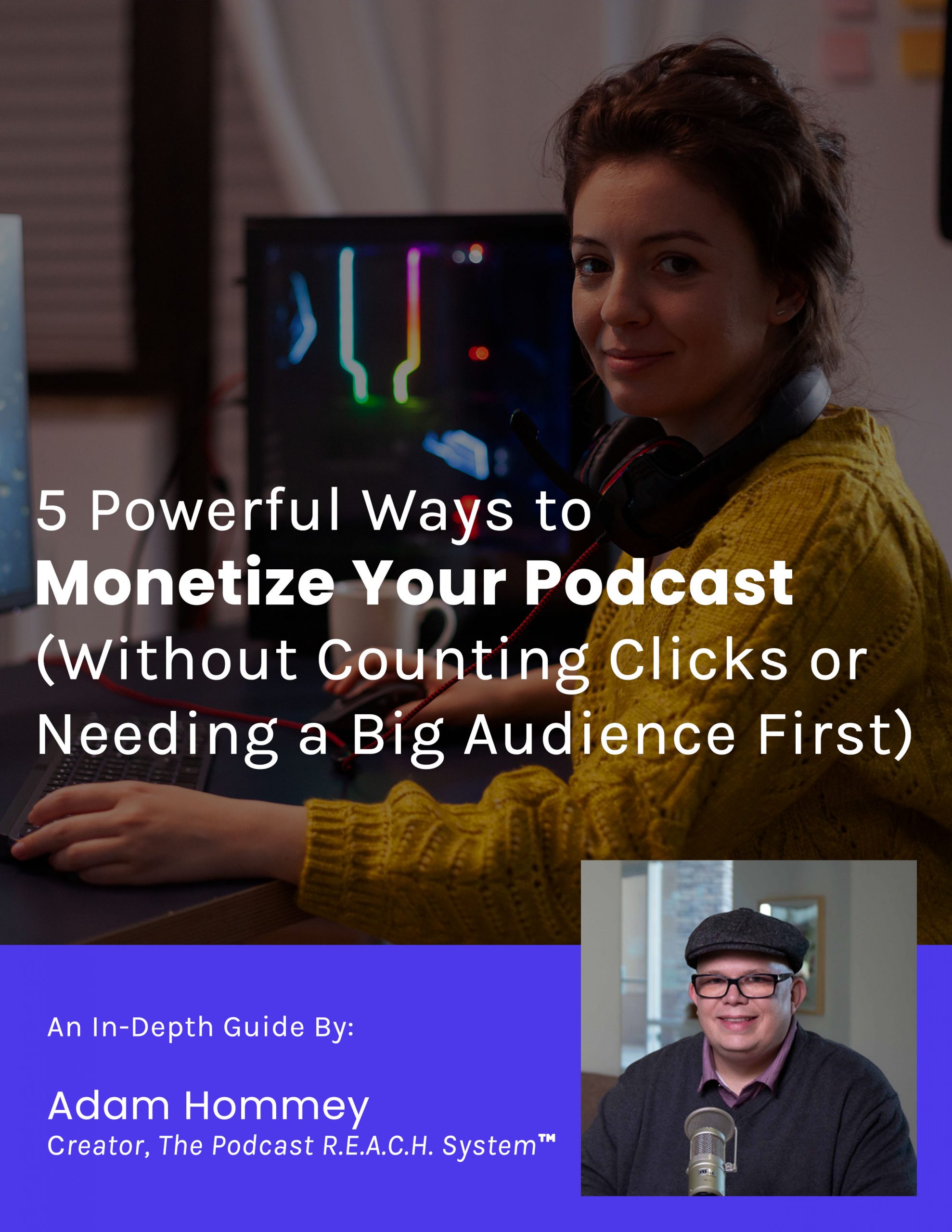 GUIDE: 5 Powerful Ways to Monetize Your Podcast (Without Counting Clicks or Needing a Big Audience First)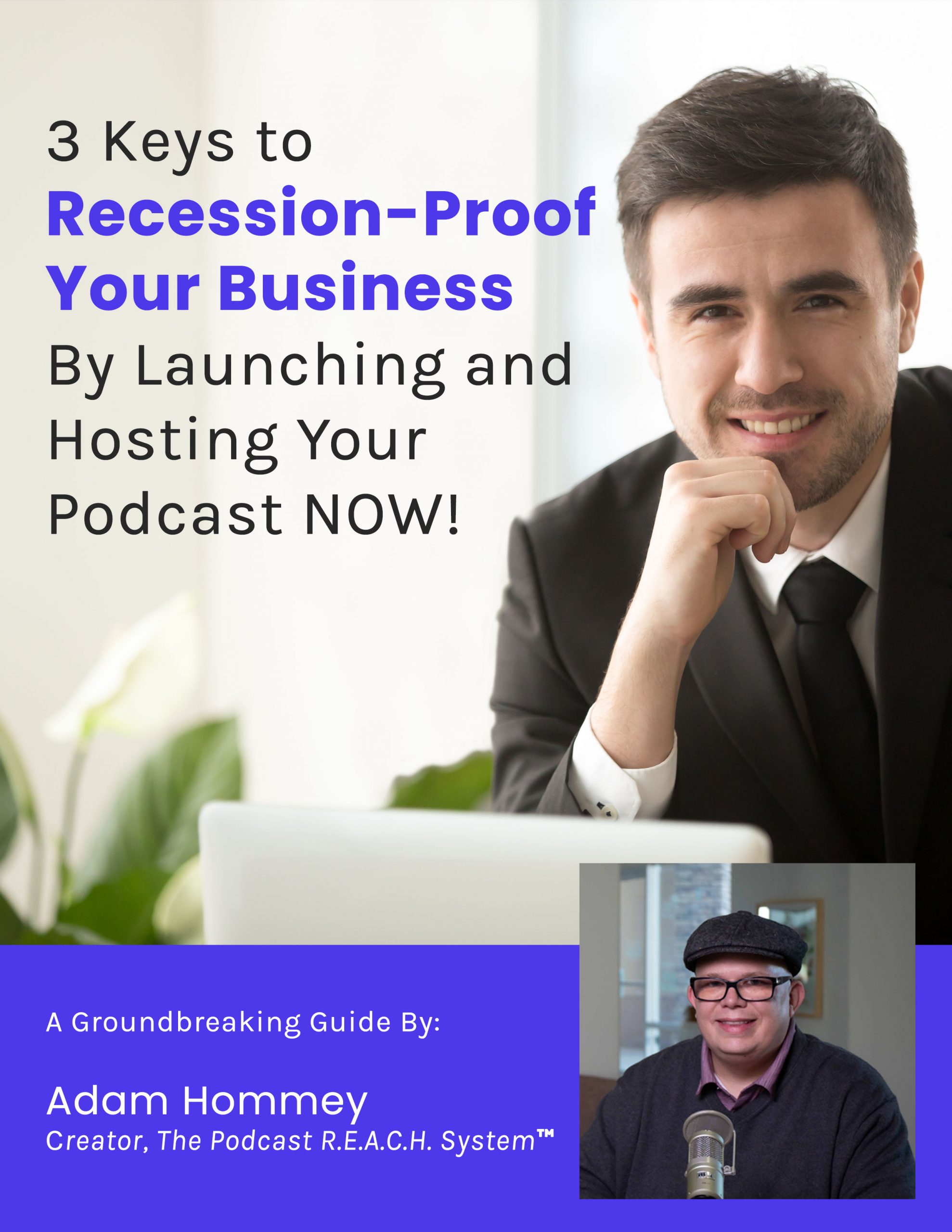 GUIDE: 3 Keys to Recession-Proof Your Business By Launching and Hosting Your Podcast NOW!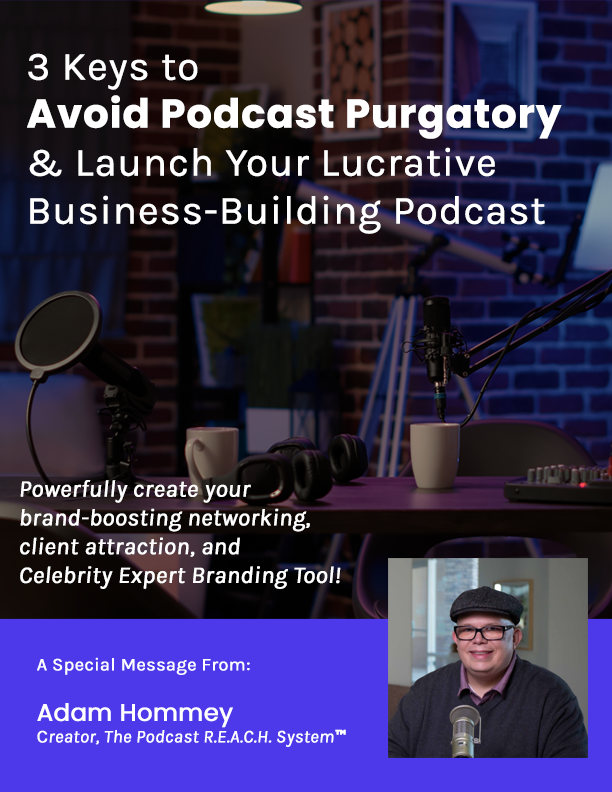 GUIDE: 3 Keys to Avoid Podcast Purgatory & Launch Your Lucrative Business-Building Podcast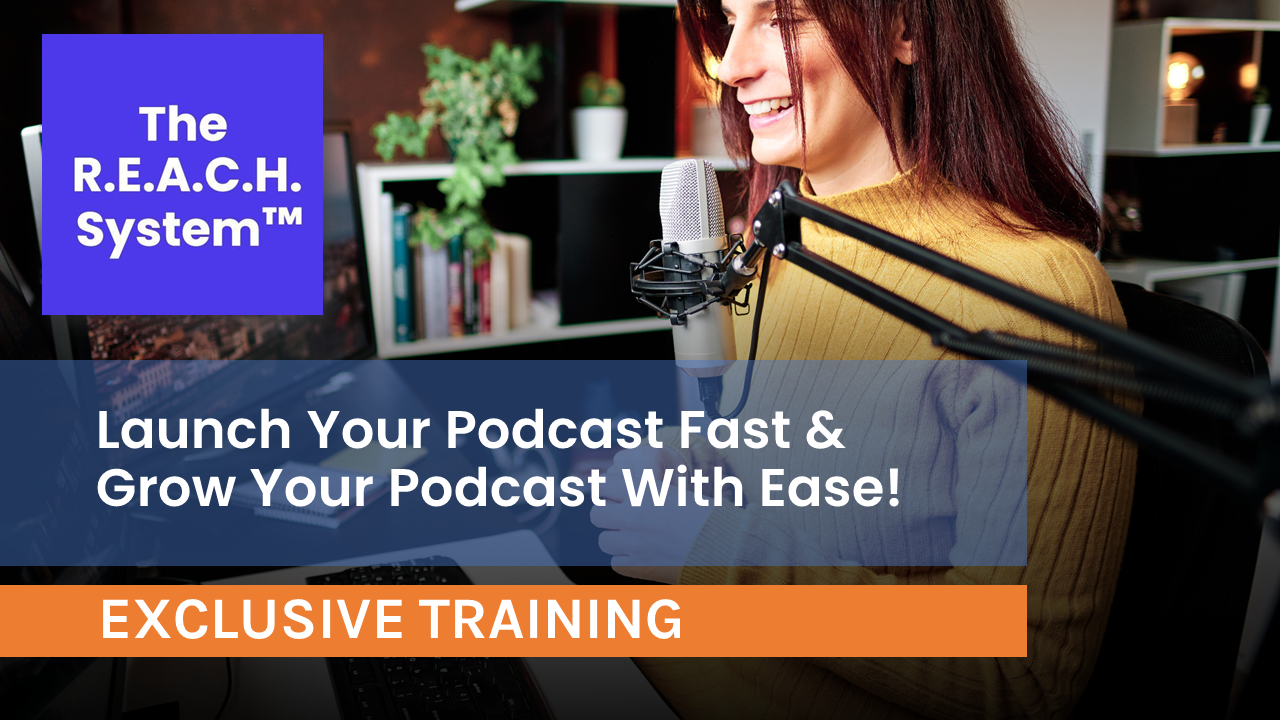 TRAINING: Launch Your Podcast Fast & Grow Your Podcast With Ease!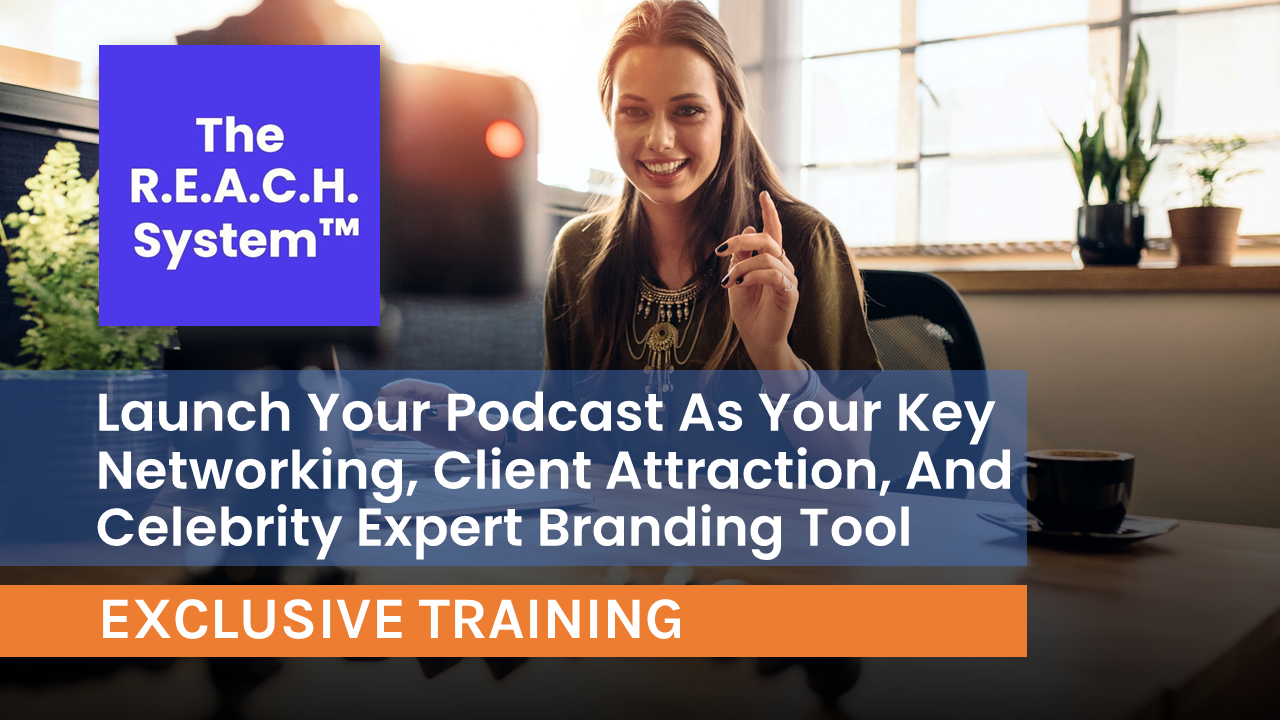 TRAINING: Launch Your Podcast As Your Key Networking, Client Attraction, And Celebrity Expert Branding Tool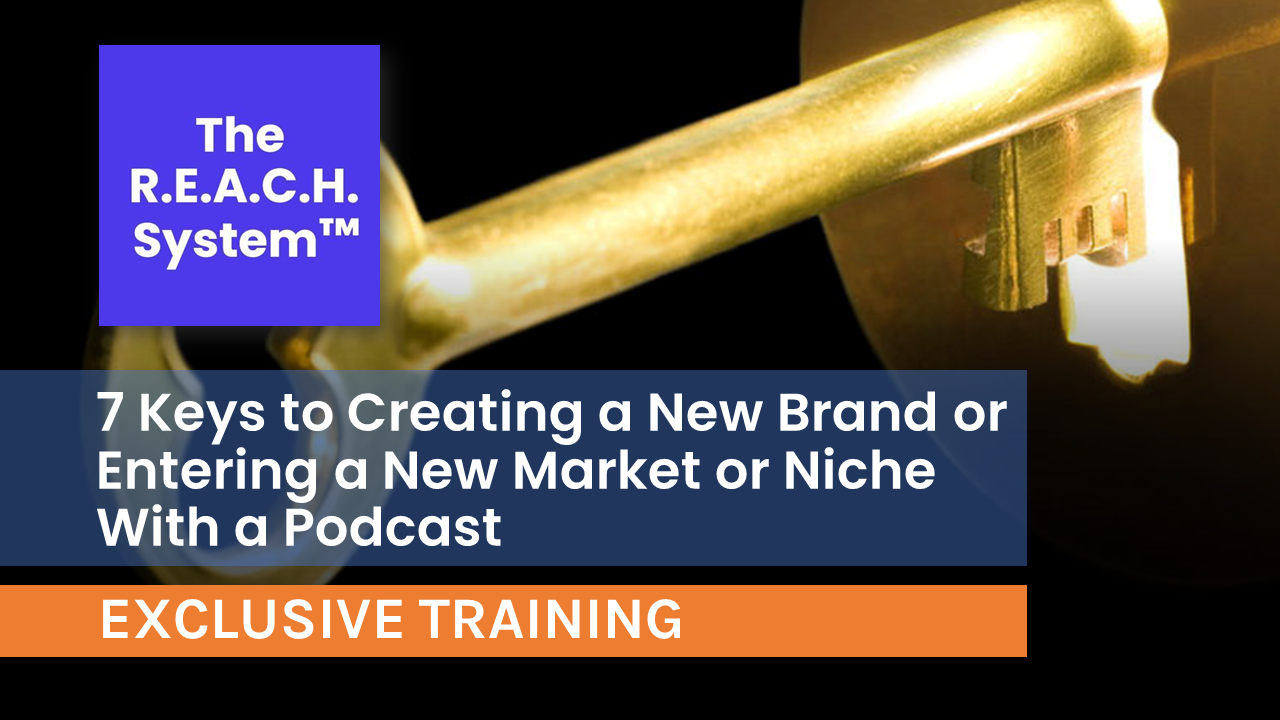 TRAINING: 7 Keys to Creating a New Brand or Entering a New Market or Niche With a Podcast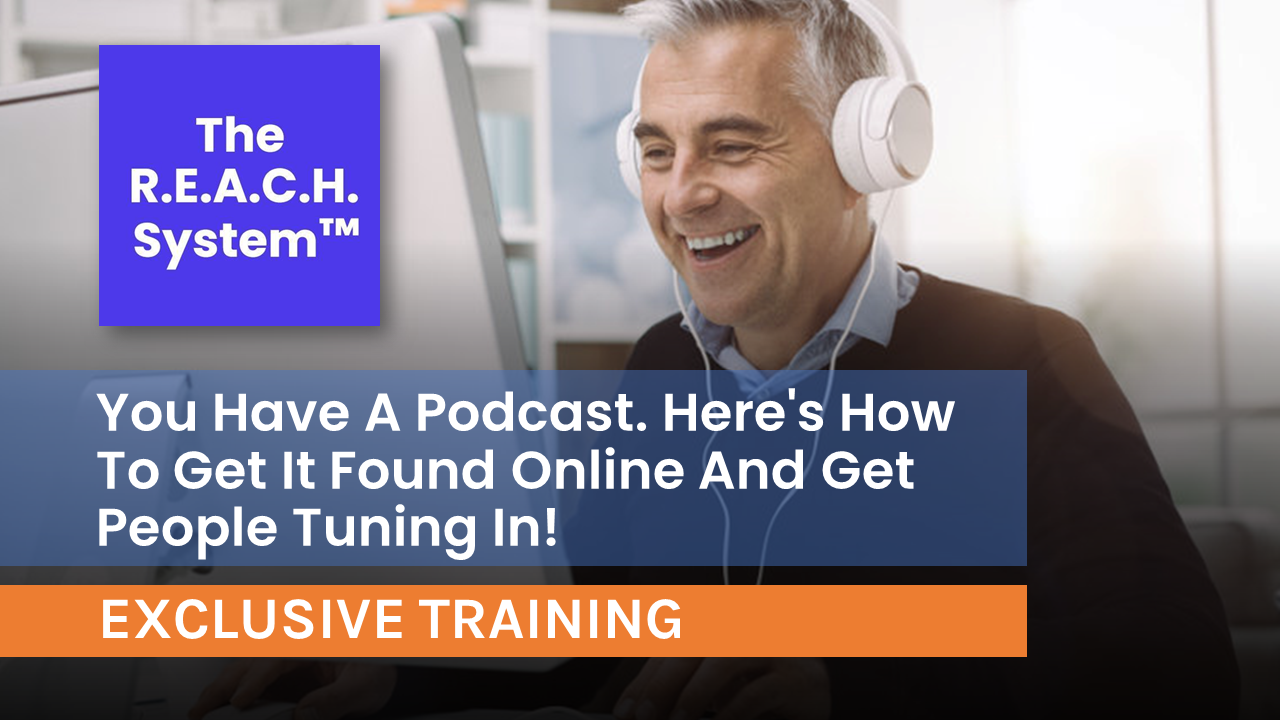 TRAINING: You Have A Podcast. Here's How To Get It Found Online And Get People Tuning In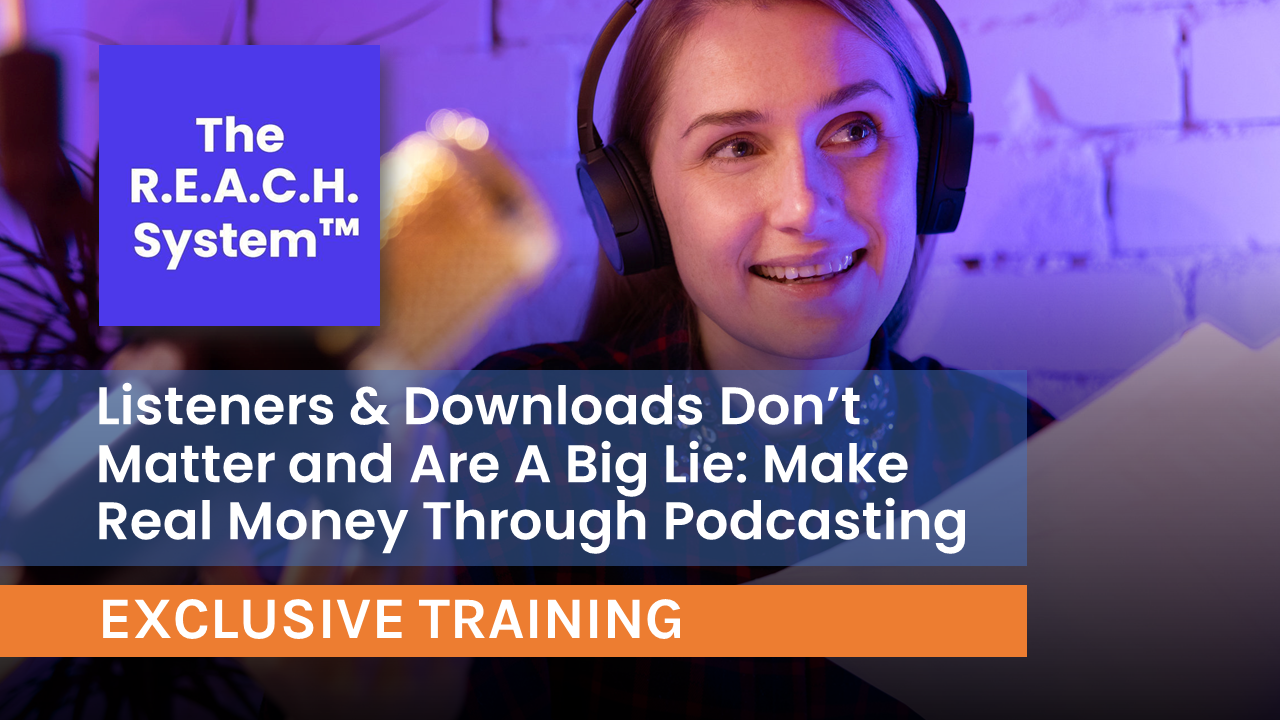 TRAINING: Listeners & Downloads Don't Matter and Are A Big Lie: How to Make Real Money Through Podcasting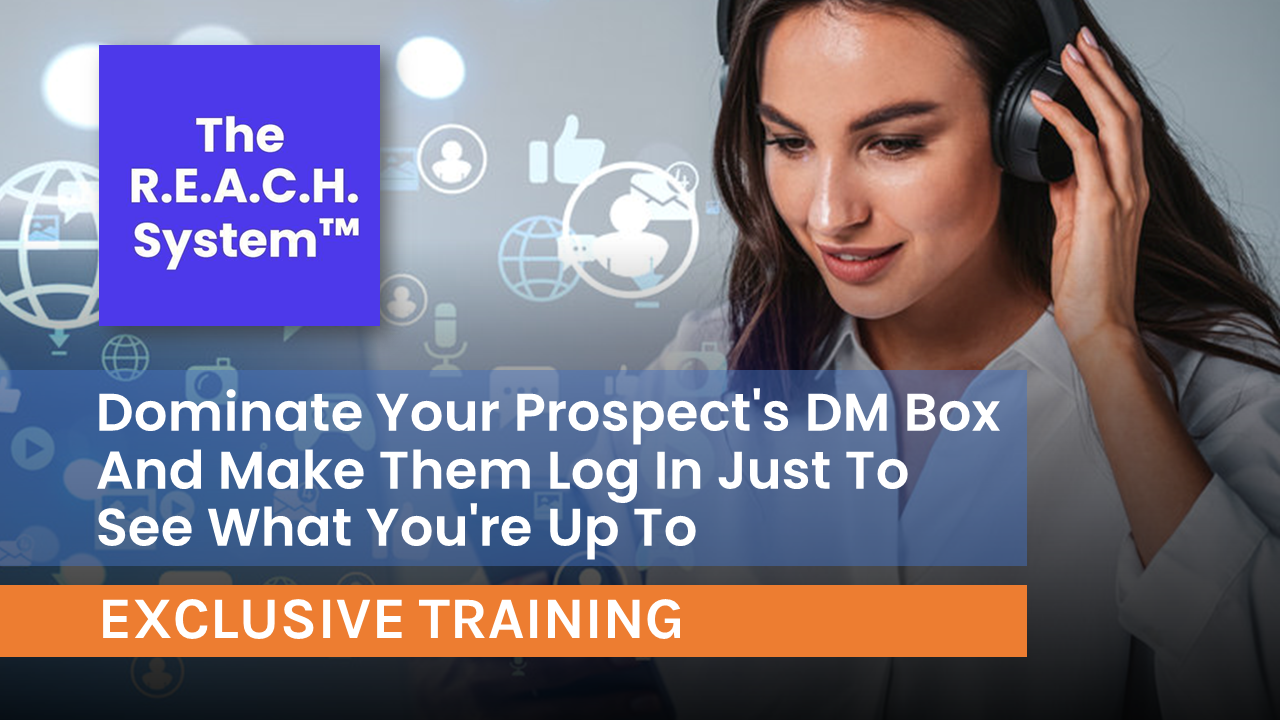 TRAINING: Dominate Your Prospect's DM Box and Make Them Log In Just To See What You're Up To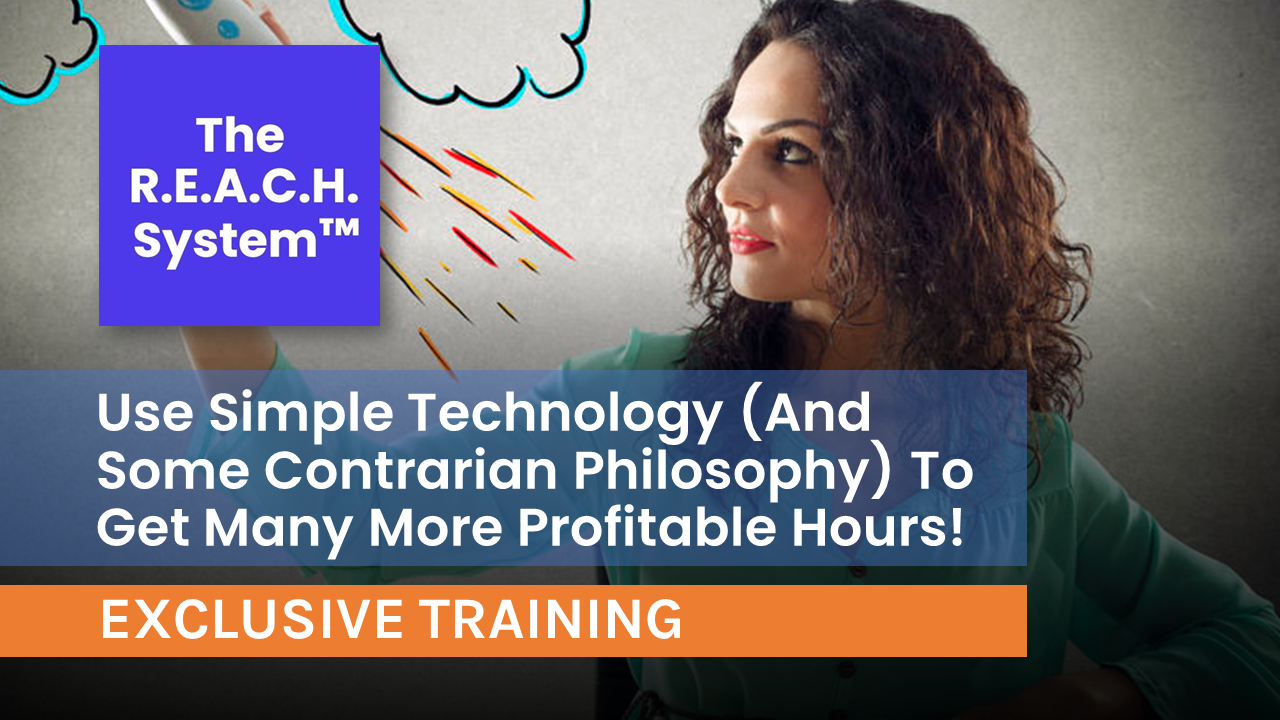 TRAINING: How I Use Simple Technology (And Some Contrarian Philosophy) To Get Many More Profitable Hours, Every Week!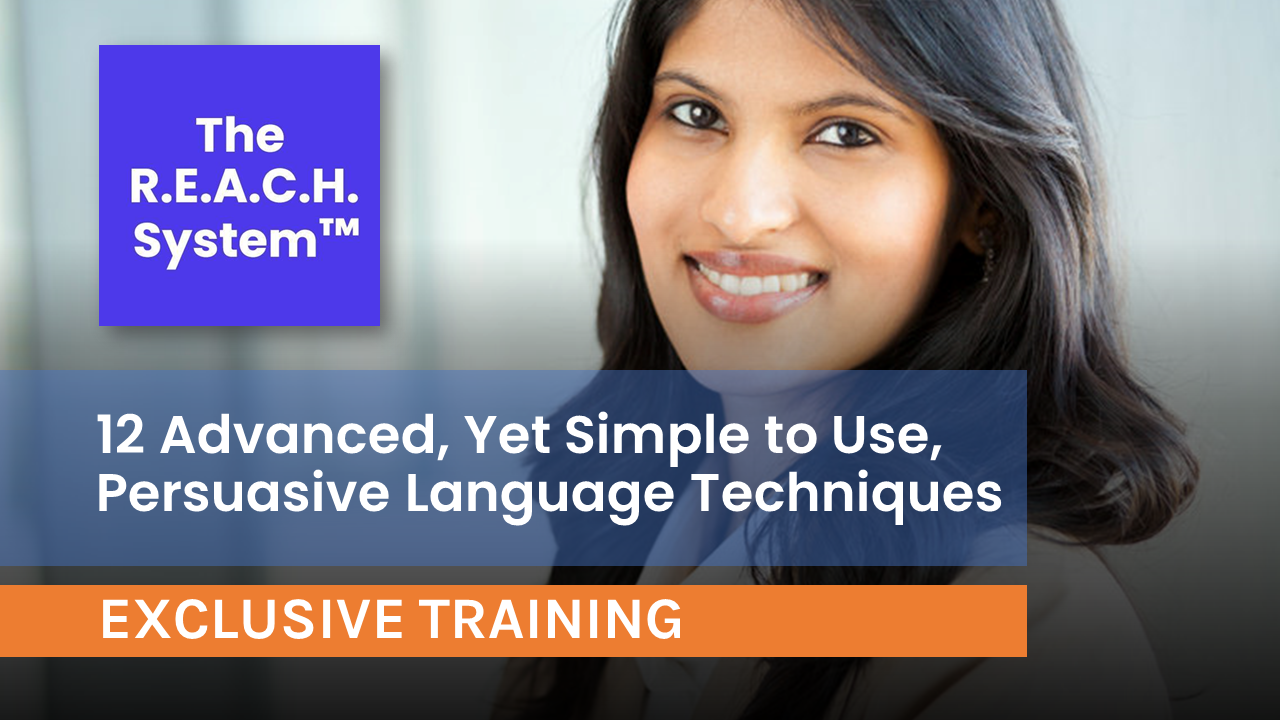 TRAINING: 12 Advanced, Yet Simple to Use, Persuasive Language Techniques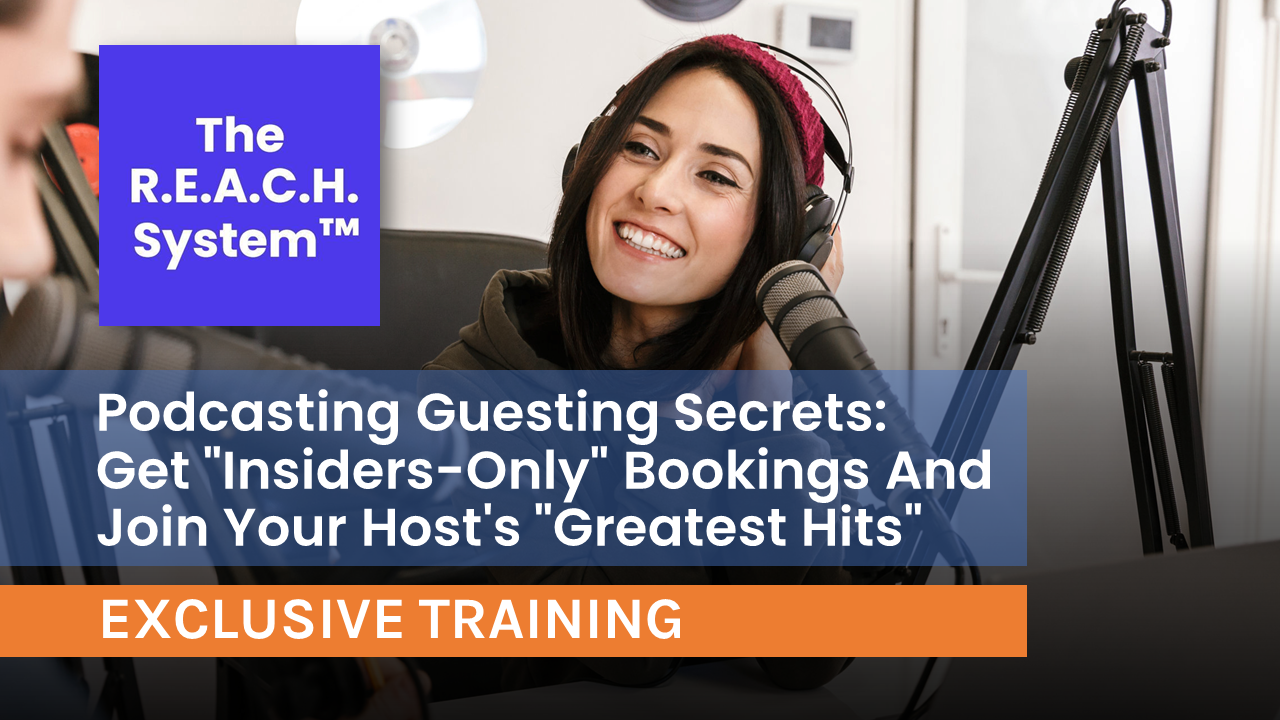 TRAINING: Podcasting Guesting Secrets: Get "Insiders-Only" Bookings And Join Your Host's "Greatest Hits"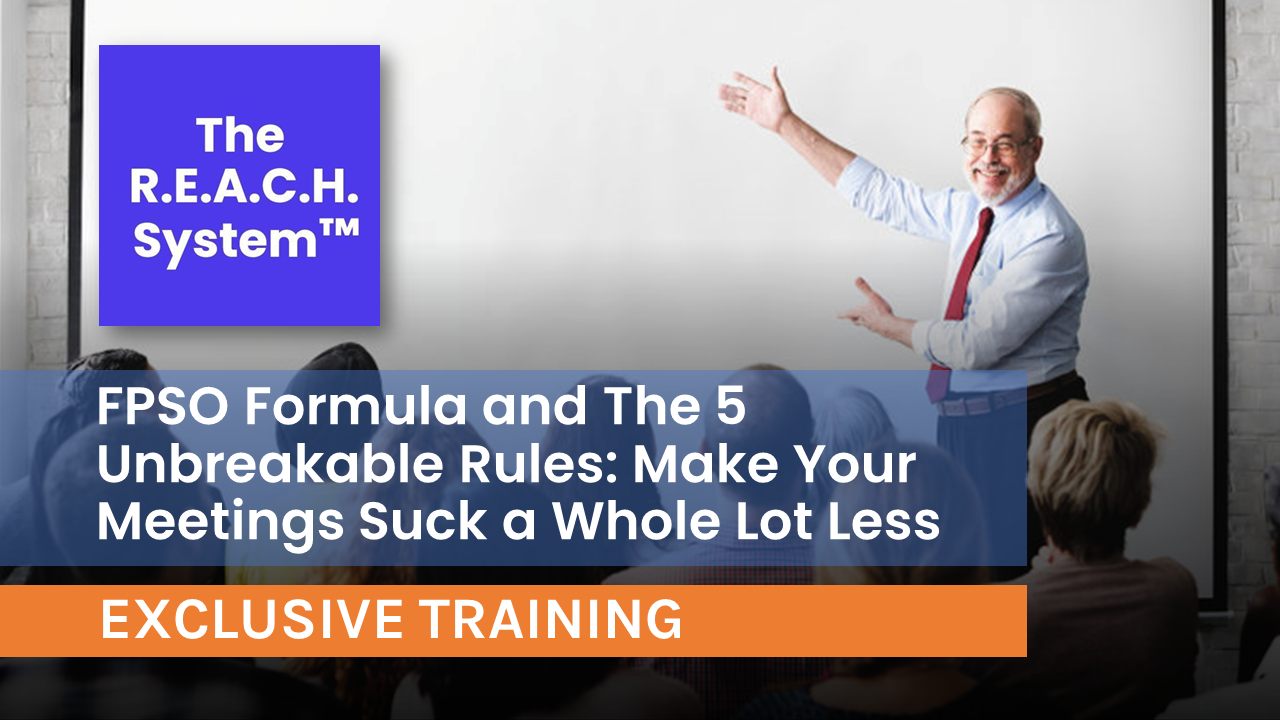 TRAINING: The FPSO Formula and The 5 Unbreakable Rules: How to Make Your Meetings Suck a Whole Lot Less
Plus, I'll Help You Spread The Word So More Listeners And Guests See Your Podcast!
I want to thank you – and really make it worth your while – for your wise decision to claim your Podcast Power Audit.
For this reason, I will interview you on my invitation-only Launch Your Podcast Fast Podcast.
We will shine the spotlight on your podcast and show the world:
How your podcast effectively and powerfully serves your community, market, and audience

Why listeners should subscribe to your show and click "Play" every time you release a new episode

What potential guests have to look forward to and why it's in their best interest to accept your invitation to appear on your show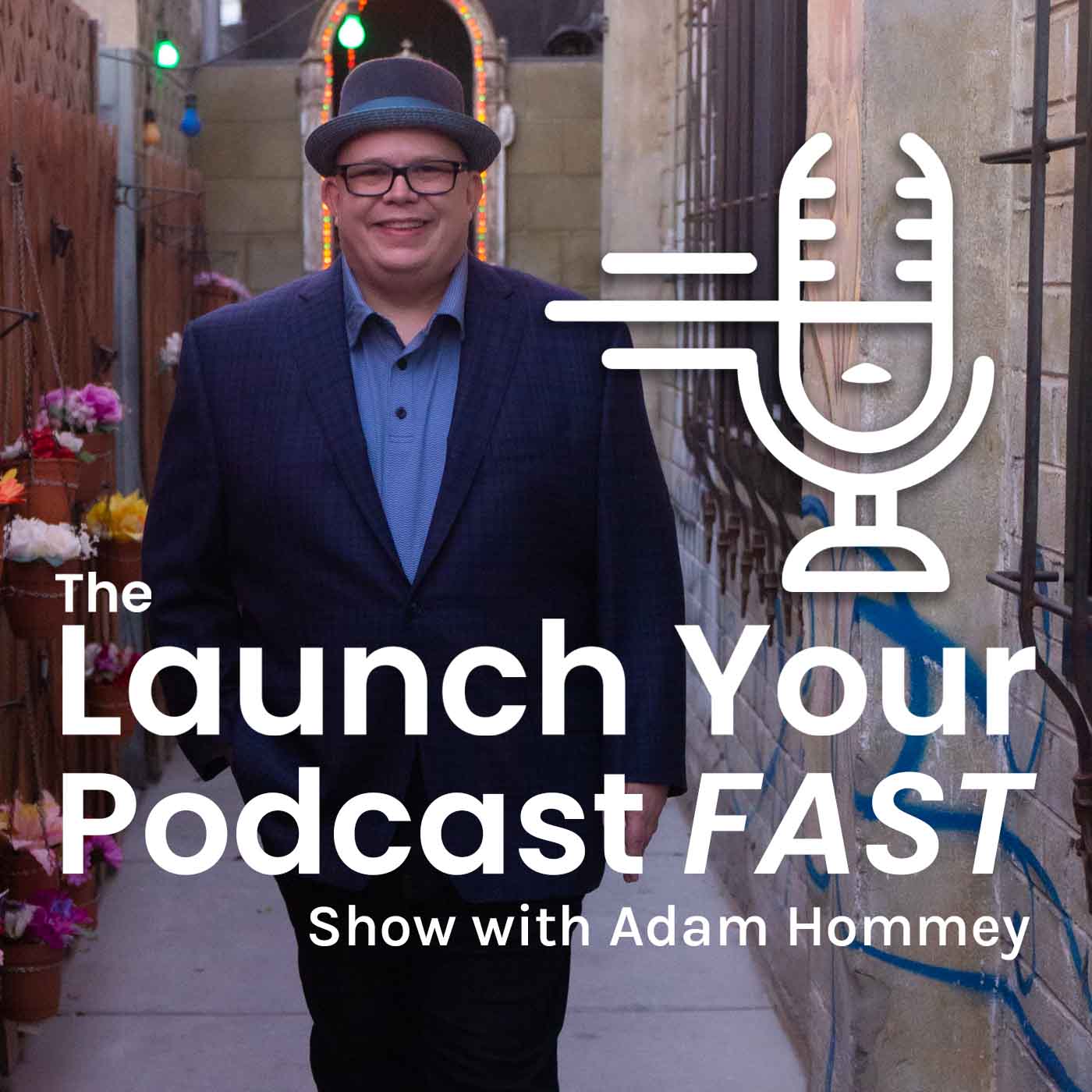 To Sum It Up, Here's Everything You're About To Gain For Yourself When We Fix Your Podcast
When you accept my invitation to claim your Podcast Power Audit, you get all of the following:
The Podcast Power Audit itself, which consists of a Zoom call and a detailed, written, personalized Podcast Profits Action Plan ($397 value)

30 days access to the The In-Demand Expert™ Premium Content Vault for Podcast Hosts and Podcast Guests where I spill my guts about everything podcasting ($297 value)

Featured on my "invitation-only" Launch Your Podcast Fast Podcast so more listeners and interview guests see the power of your show ($297 value)
Your total value is $991.
But I know you can't wait any longer.
So, when you allow me to take a bold stand for your results and your success by accepting my invitation, today's investment is only $197 (an 80% savings!)
There's only one thing that still needs to happen.
Take A Bold Step Toward Financial Success And Unlock The Full Potential Of Your Podcast Now!
Here's exactly what will happen in the next couple minutes when you accept my invitation.
When you click the button below, you'll be taken to a page that looks like this…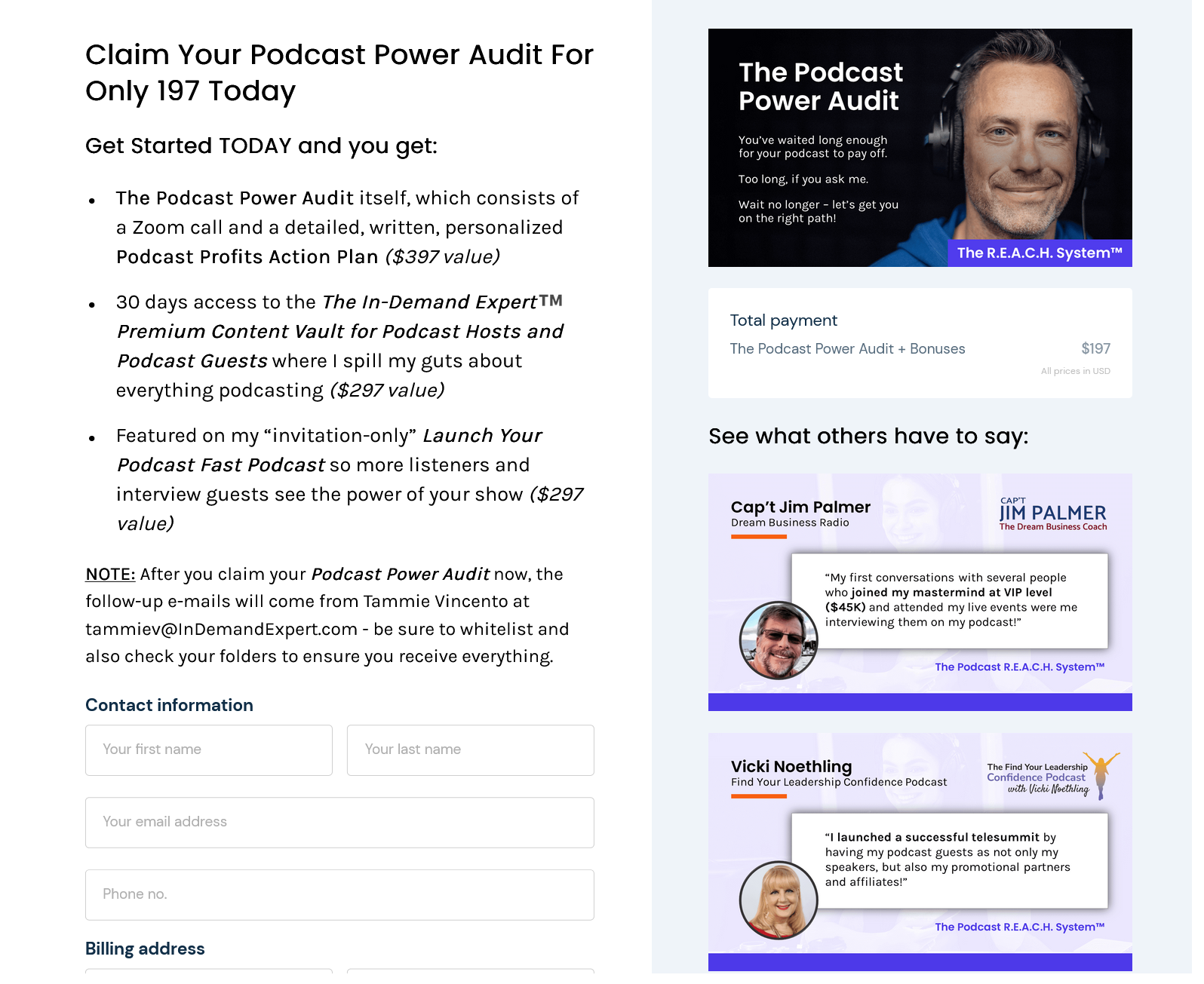 Select your payment option and click "Complete Order"…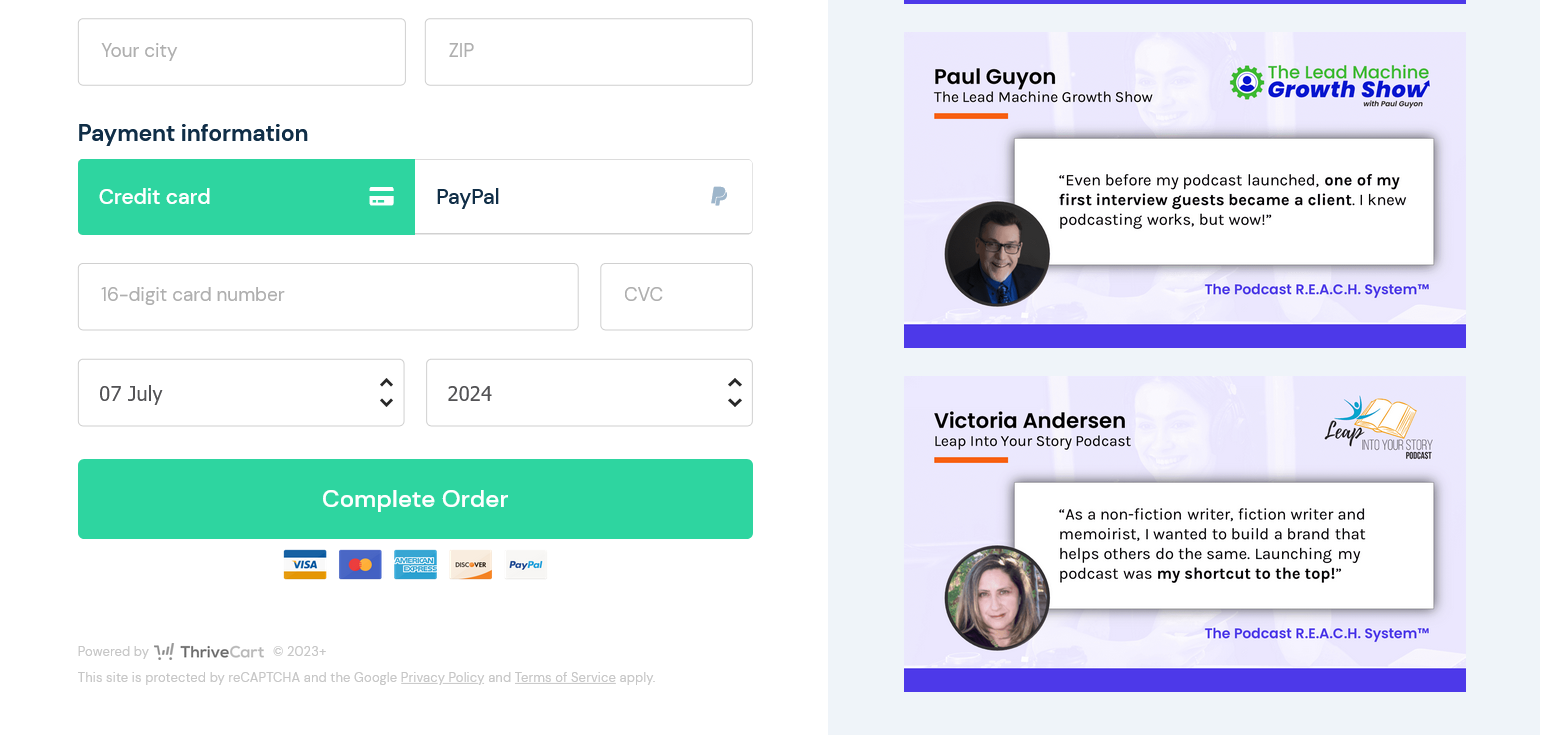 You'll be taken to a page that looks like this and asks you six simple questions that you already know the answers to and should take you about one minute to complete…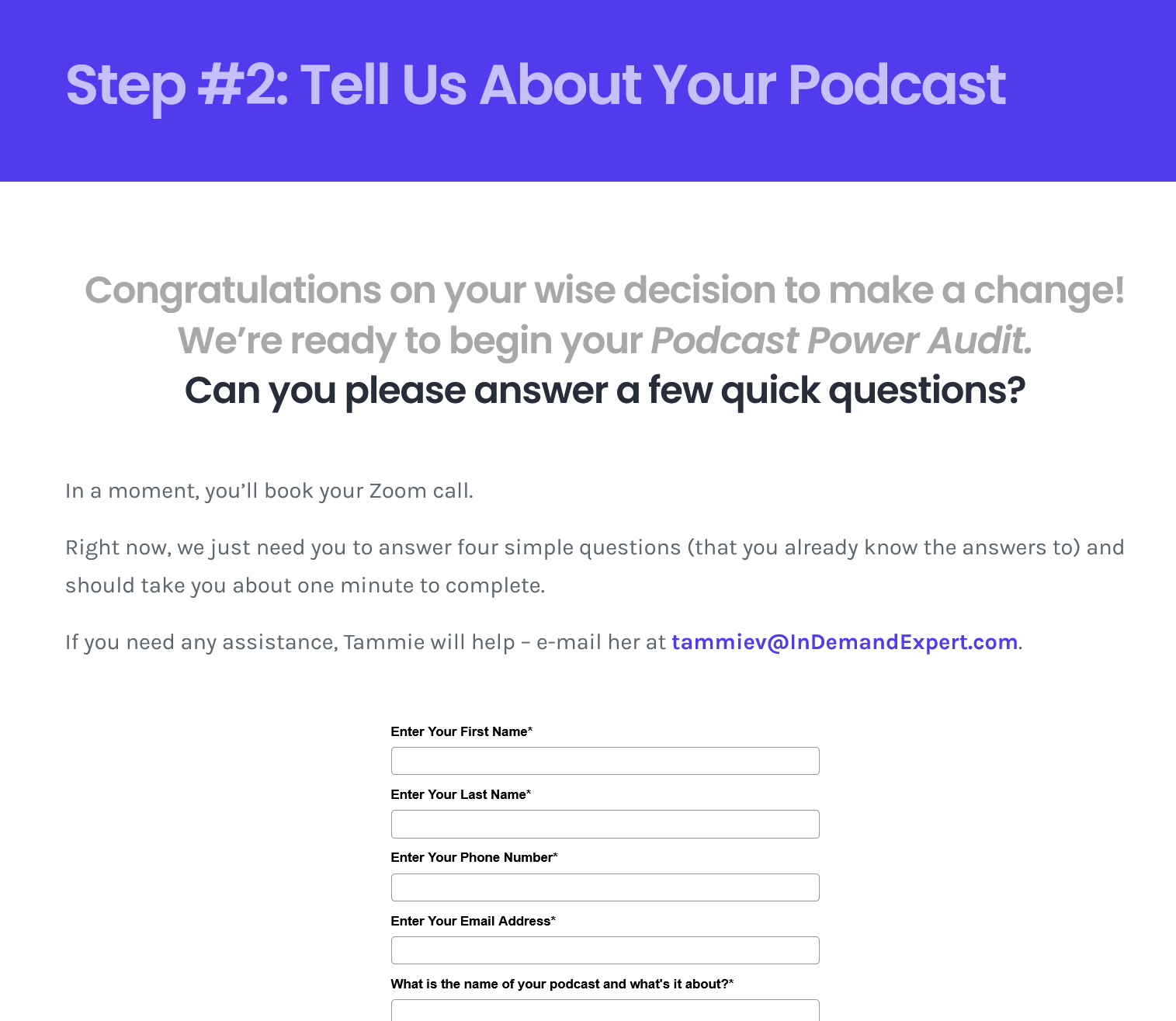 And then, you'll go to a page where you'll book our Zoom call…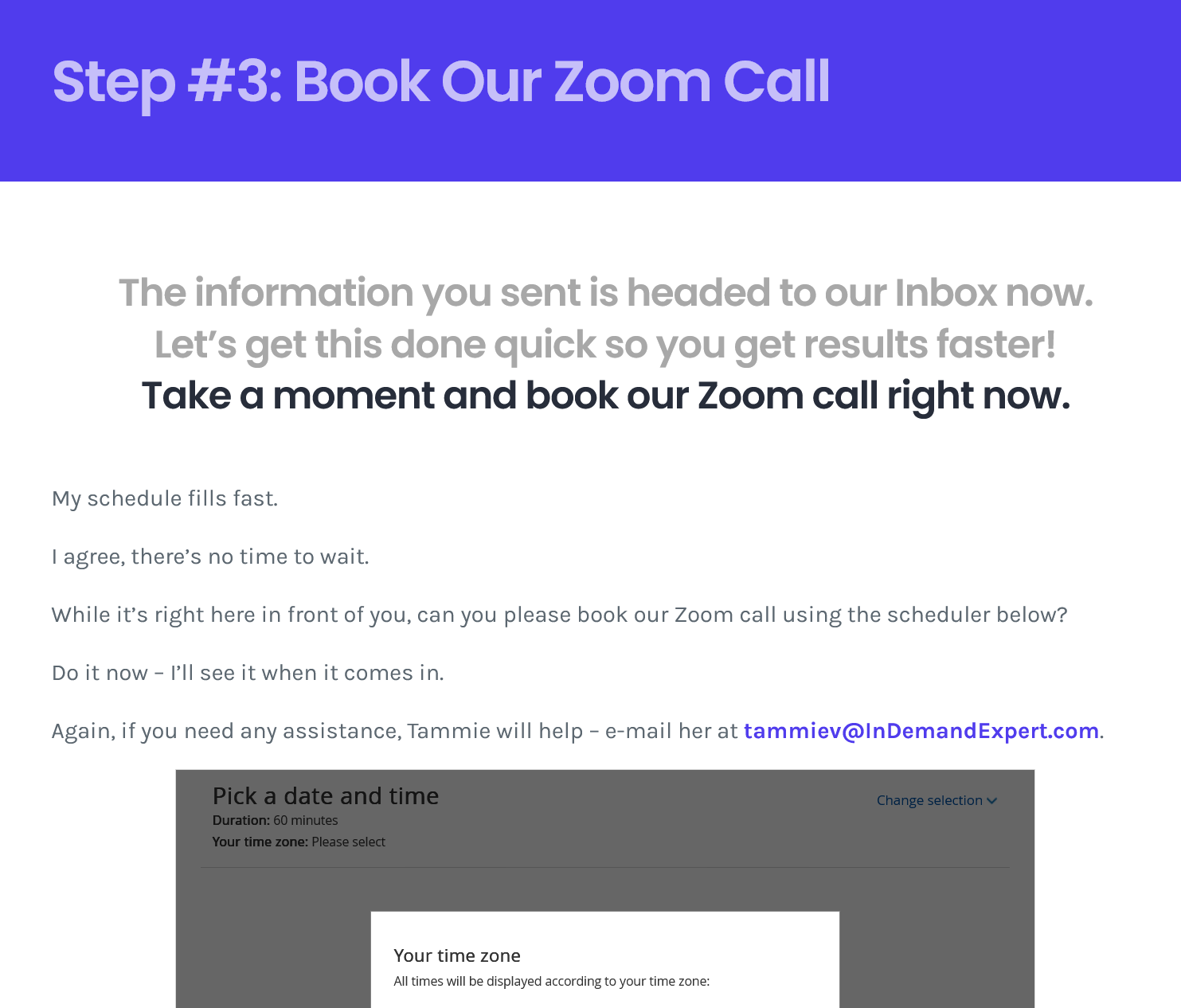 That's it!
Also be aware of the following:
All E-Mails You Receive Once You Claim Your Podcast Power Audit Will Come To Your Inbox From Our Manager, Tammie.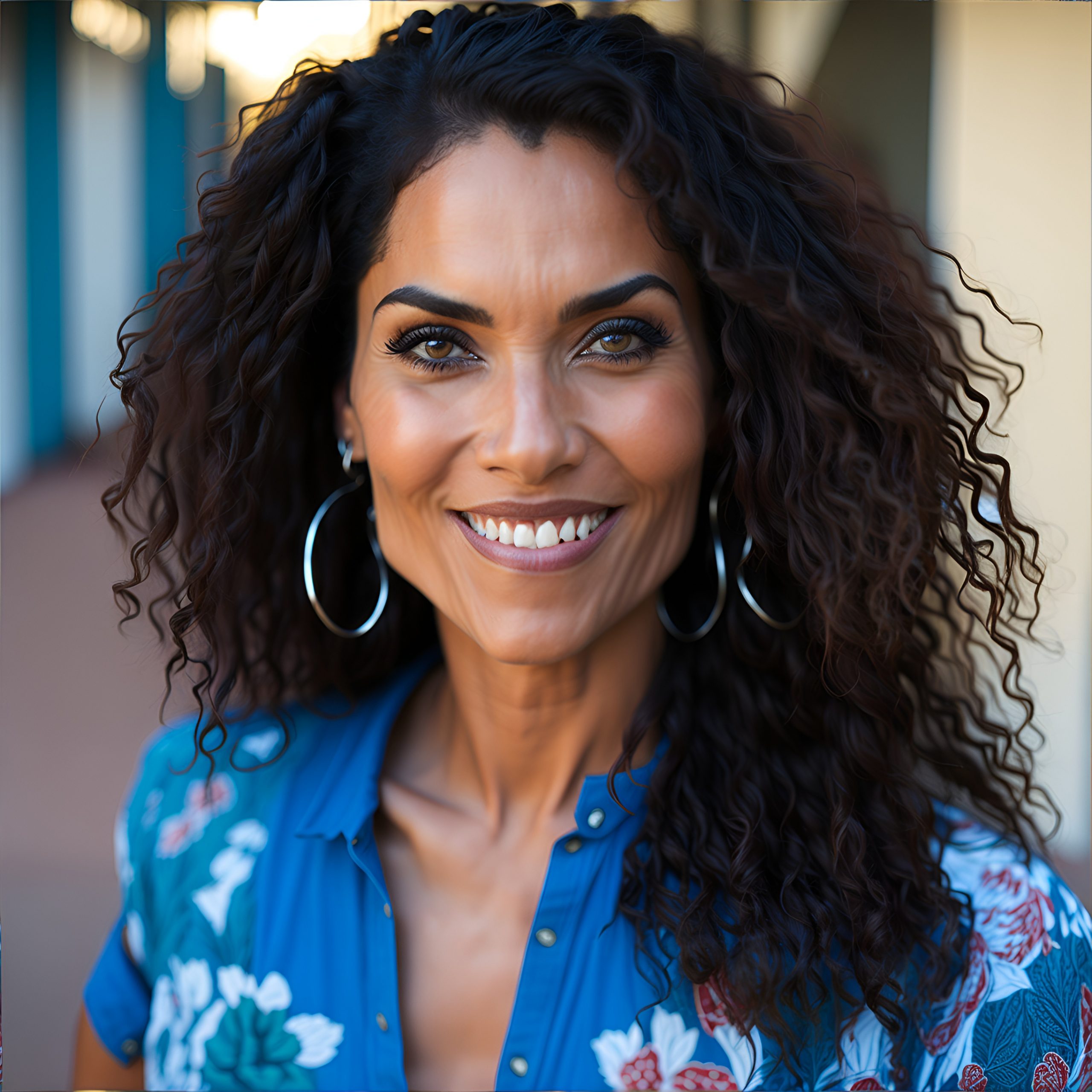 This includes the welcome e-mail and an e-mail with the links to the other two pieces of the process described above, just in case (see, you're 100% covered).
While you're booking the Zoom call, she will also send you the username and password you can use to log straight in to the The In-Demand Expert™ Premium Content Vault for Podcast Hosts and Podcast Guests – then check with you to make sure you got it.
You can start getting more even while we prepare your Podcast Power Audit.
There you have it.
Together, we'll turn your podcast passion into profit!
Right Now, You Have Two Choices…
It might seem like the easy way is to either continue to muddle through, doing the same things over and over, tossing pasta at the wall hoping eventually something will stick.
Or, you could just quit and throw away everything you've put into your podcast, up until now.
But really – if you ask me – that's actually the hard choice.
The true easy choice is to click "pause", claim your Podcast Power Audit today, and discover exactly how to get things moving in the right direction so you can finally enjoy everything you deserve as a podcast host.
You've waited long enough for your podcast to pay off.
Too long, if you ask me.
Wait no longer – let's get you on the right path!